back to Blog
From the Heart: Mental Health Tips From Our FHITpros
In honor of Mental Health Awareness Month, we're sharing experiences and perspectives from our FHITfam and community to help promote awareness, empathy and understanding.
Fhitting Room's vision "to help people realize their strongest self" extends beyond just physical health — there's no question that mental and physical health work together and are equally important.
In this month's From the Heart feature, we spoke to three of your fav FHITpros on how they're staying strong, FHIT, happy, and healthy in quarantine.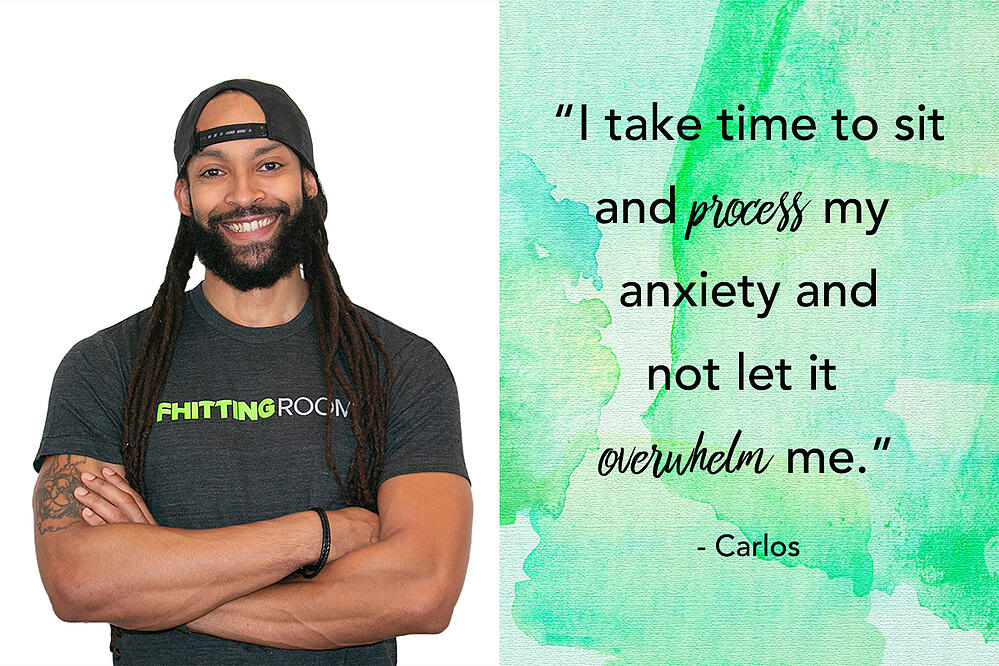 How does being active support your mental health, pre-COVID and during COVID?
Being active has always been a huge part of my mental and emotional health. Not only as an athlete/exerciser, but also as a fitness professional that often lives that "5 to 9" lifestyle. I enjoy being busy (I get bored very easily), so being active in various ways helps keep me engaged and focused.
During COVID, I have honestly vacillated between being very active to not wanting to do anything at all. I have had to self-talk many times and be kind to myself in those moments when I am beating myself up because I am not as active as I am used to being.
What is your motivation for mental and physical fitness?
Outside of my inherent competitiveness and my enjoyment of being physically active, it's how those two spaces (mental and physical) interact that motivates me to continue "working out" both parts. It's been interesting how exciting it has been for me to be challenged as a coach as I pivot to a more digital format and don't have the availability of all the "toys" that an in-studio experience brings. It has forced me to be more creative and challenge myself. This pandemic has also forced me to be more creative with my own workouts to ensure that the various physiological and emotional/psychological bonuses that we derive from physical activity are still present. With all the external stressors that are challenging our emotional and physical states currently, it is imperative that we find a way to move our bodies and keep our immune system as strong and healthy as possible.
There's a lot of anxiety and panic going on right now given the current pandemic. What practices are you using to best cope in quarantine?
Outside of working out, I have started to meditate more often. I have also reached out to various groups (Talent Hack, Mastermind Connect, Kings Run, Chad Woodard, etc.) and have used this time to learn new skills and engage with people in different ways.
I also force myself to take time to actually sit and process my anxiety and uncertainty and not let it overwhelm me. As humans we often put things "away" psychologically that we don't want to think about. Since we are not dealing with these things they build over time and we end up reacting to things in much more emotional and layered ways and often have no clue why. It's because we have loaded an emotional powder keg and when it blows, all the experiences that preceded it will make for a much more impactful explosion.
I also force myself to take social media breaks. Because we are all quarantined (for the most part), we are all on social media. That level of constant stimulation, and the various triggers that are inherent to that space, can negatively impact us especially when many of us are in the most emotionally/psychologically vulnerable time in our lives thus far. You have to take time to focus on your feelings, thoughts, perceptions, etc. and you can only do that if you step away from the "noise" that can be social media.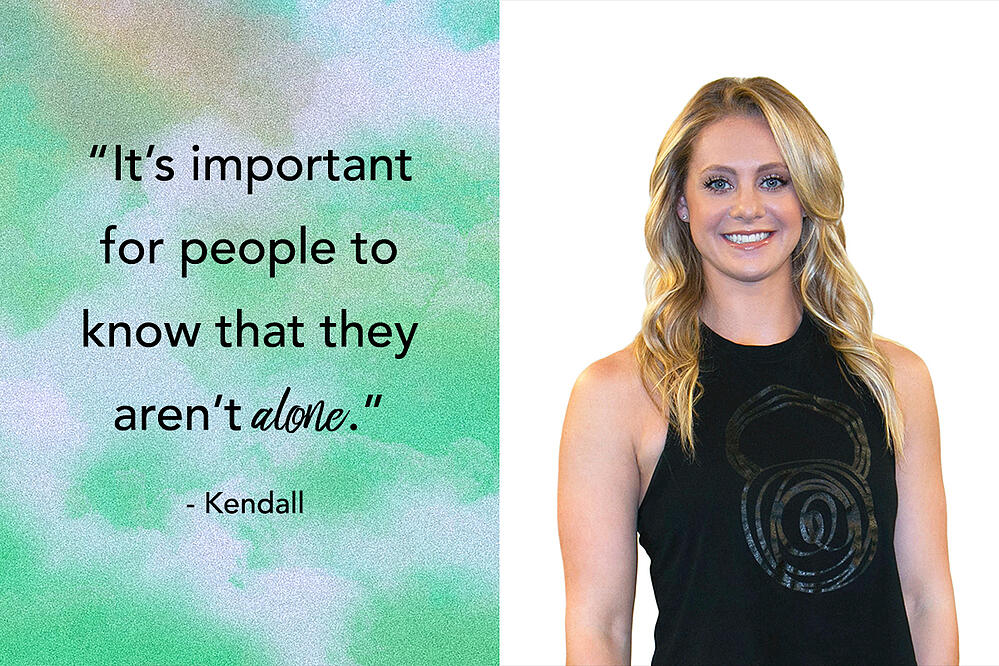 How does being active support your mental health?
Working out is my form of meditation. It's the only time I'm completely focused and not thinking about my phone or anything else going on. It allows me to clear my mind, build confidence and get the endorphins going which always helps put me in a better mood.
What motivates you to stay strong and FHIT, mentally and physically?
Picturing my life in the future has always been my motivation for staying strong and FHIT physically. I want to be capable of everything that I am now when I eventually have children and grandchildren. Being FHIT has nothing to do with how you look, but everything to do with how you feel. Mentally I want to feel good and be a positive influence for others.
What tools are you using to cope in quarantine?
I've dealt with anxiety for a long time so I'm applying a lot of what I've learned to the current situation. Reminding myself that everything is temporary and to only focus on what I can control has really helped. I also write down or make a mental list of gratitude and only surround myself with people/news/TV that are positive. There are ALWAYS things to be grateful for so instead of harping on the bad, I choose to shine a light on the good.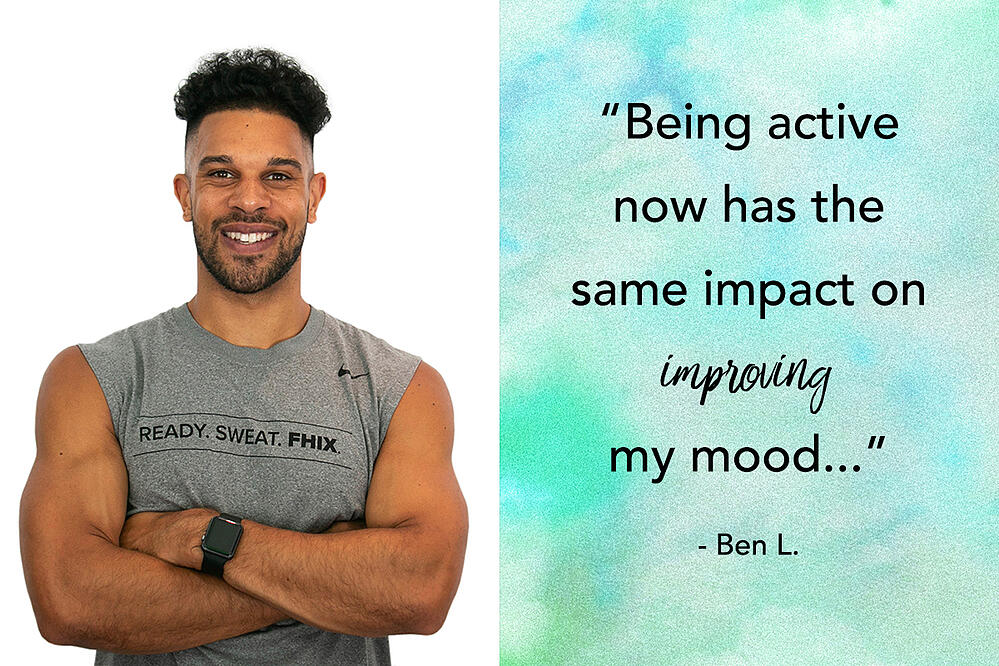 What role does fitness play in supporting your mental health?
Health is a state of physical, mental and social well being… both pre and during COVID activity has been an important part of my life and me as a human. As a kid I played sports with friends and teams. Activity helped me to be more disciplined, helped me engage with others and helped build my confidence not just with my physical ability but also my mental ability to set my mind to a task and achieve it. Being active now has the same impact in improving my mood, mental clarity, productivity, overall feeling of togetherness and confidence to tackle each day and I think that it also does that for many others, too.
What motivates you to stay strong and FHIT?
I have goals and aspirations that I look forward to and help to drive me to continually give my best work and the best version of me given my current circumstances which gives me a lot of fulfilment.
What methods are you using to stay healthy in quarantine?
Regular physical activity which can be anything from a 20 minute walk to a workout. Text, FaceTime or calls with friends and trying to keep as much routine as possible. A lot of what is happening is out of our control, but there are also a lot of things that are within our control, so if you exercise four times a week maintaining that level of activity/frequency will likely help you feel accomplished and prepared for other aspects of life. If you have tacos on Tuesday keep doing it, Pizza on Friday night keep doing it continue to live your life during quarantine (as much as possible) don't quarantine your life.
For more from our Mental Health Awareness Month series, check out these blog posts:
Tips From Therapist Rebecca Alexander for Mental Wellness in Quarantine
Overcoming Anxiety Through Fitness
Creating Healthy Habits for Mental Wellness With Dietician Gabriela Barreto