Congrats to all of our NYC Marathon runners! Meet some of our frequent FHIXers who crushed the course. Learn how they incorporated Fhitting Room into their training, and check out their best advice for new runners.
Hannah Rosenthal: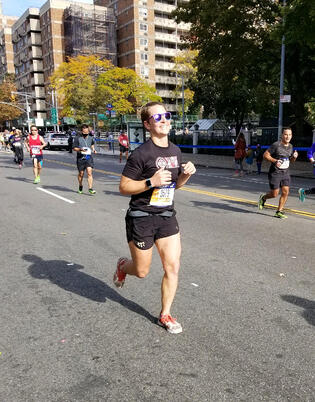 When did you decide to run the NYC Marathon?
I decided to run last year. I did a lot of running during the pandemic since it was the only thing keeping me sane. I've always wanted to run NYC–I watch it every year from the sidelines and it always looks amazing! It was so wonderful running through my hometown with so many friends, family members, and strangers cheering from the sides.
How did you train for the marathon?
My training involved doing two or so short runs during the week (3-4 miles) and a long run on the weekends. I also did at least 1 Fhitting room class per week! My marathon training overlapped with my training for a triathlon in September so I also did a fair amount of biking and swimming. It's fun to mix it up.
How did Fhitting Room play a role in your training plan?
I think strength training is an important part of marathon training. Running too much just leads to injuries, so it was great to have these classes to accompany my weekly runs. Also, I usually run alone so it's always nice to change it up and work out with other people.
Tell us about your first FHIT?
I definitely remember my first FHIT. It was about 5 years ago and I still remember collapsing on the floor in a pool of sweat after class was done. But I got hooked and keep going back.
Best advice for someone looking to get into running?
Start slow and run somewhere pretty. If you try and go faster than is comfortable before you're ready, you'll never run again!
Woon Wu: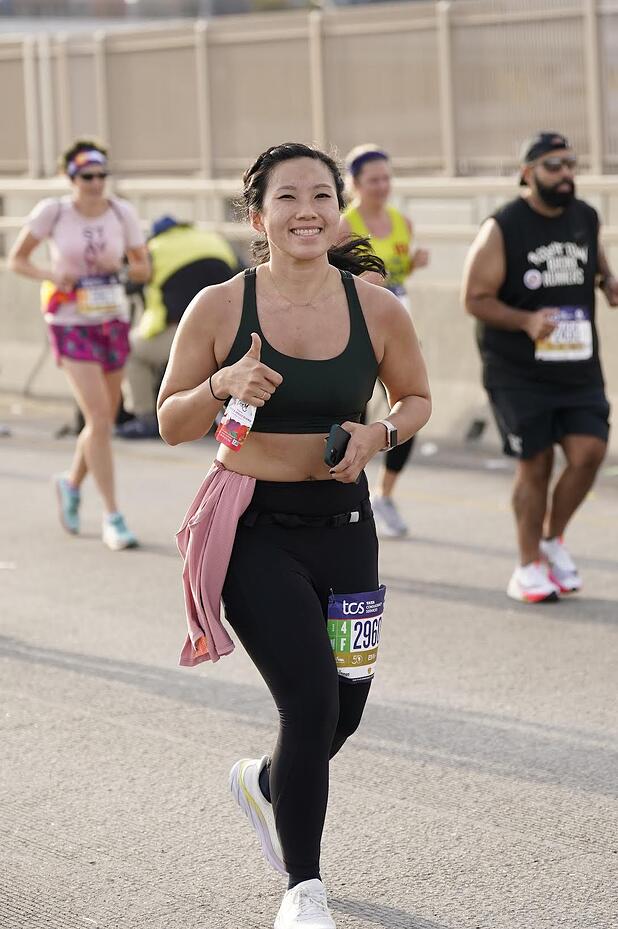 1. When/Why did you decide to run the NYC Marathon?
I decided to run the NYC marathon as a tribute to all the frontline workers during COVID 19. Working as a registered nurse during that time was rough. There was so much uncertainty and fear. The streets of NYC were so empty and the only people you saw were the ones that had to continue to go to work to make sure everyone was taken care of. We put on a strong face but deep down we were scared for our own lives. Among all this chaos, NYC was strong and able to come together to support each other and surpass these tough circumstances. Now in 2021, this race was a reminder of all that has happened the past year and it's finally nice to see everyone is back on these NYC streets cheering each other on.

2. How did you train for the marathon?
To be honest, I didn't train properly for the marathon. With work and uncertainty, if COVID would postpone the race again, I didn't really plan my training. When it was certain that the race was happening, I did progressively increase my long runs on the weekend and had 1 short-run (4-7 miles) per week, 1 day on a stationary bike for low impact, and 2 days doing HIIT. Then I started incorporating Ben Lauder-Dykes' "Race Ready" tips in the last month before the race which did help make me feel more ready for the race. I highly recommend you follow a proper marathon training program to help prepare and prevent any injuries that can happen from running 26.2 miles.

3. How did Fhitting Room play a role in your training plan?
It provided me with a break from all the running because I love the high intensity and strength training that I get from working out at Fhitting Room. It also provided me with the core strength that is important for running. In addition, completing the finishers at the end of class is always about mental toughness which can be translated over to running a marathon.

4. Tell us about your first FHIX?
My first FHIX was back in 2018. I remembered reading reviews about how hard the classes were and a part of me was excited, but another part was worried about not being able to keep up or complete the class. So, I decided to book a spot all the way in the corner to avoid making a fool of myself. In the end, the class was extremely fun and I only died a little on the inside. Not only were the FHITpros helpful with tips, but they were also extremely encouraging and I remembered them telling me not to be in the corner spot next time.

5. Best advice for someone looking to get into running?
Don't compare yourself to other runners out there. Everyone starts somewhere and it doesn't matter how slow you are. Start with one mile and then slowly add the mileage on. When you feel like you are ready to do the 5k, 10k, half, or full marathon, go for it. It doesn't matter if you are first or last place- at the end of the day, you will have completed something that many others would not even think of doing.
Shari Bernstein: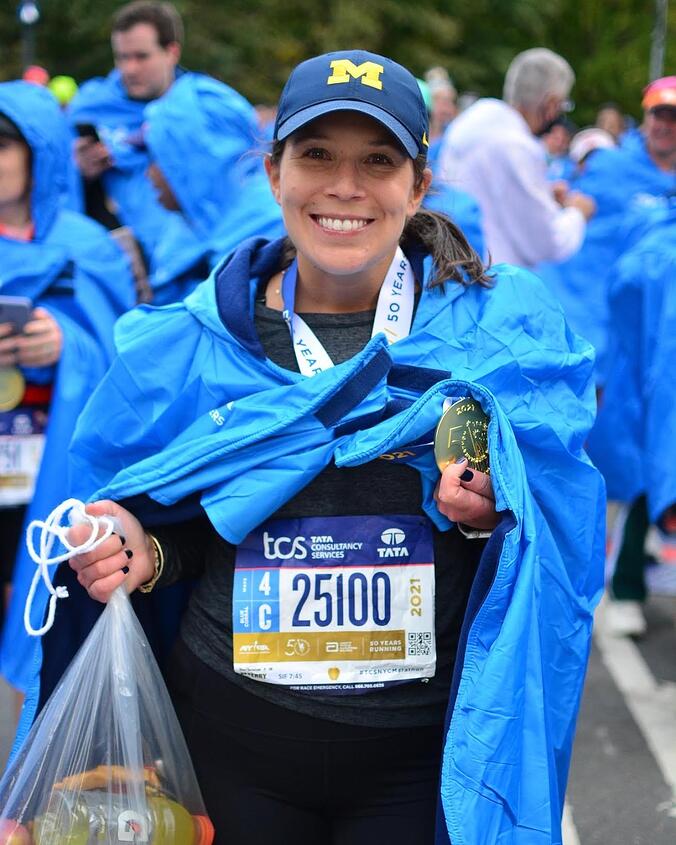 1. When/Why did you decide to run the NYC Marathon?
I decided to run the 2021 NYC Marathon for a few reasons. First, because I wanted to be a part of the 50th anniversary of the NYC Marathon. This was my 6th NYC Marathon (including a virtual marathon in 2020, which by the way, I do not recommend), and I knew this year would be special. Second, I wanted to be a part of the marathon to celebrate NYC's resilience and strength after the pandemic. And third, I decided I wanted to train for the marathon as a way to stay focused on my fitness and health goals. As anyone who was out and about on November 7th knows, NYC really showed up!

2. How did you train for the marathon?
I trained for the marathon by running 4 times per week, alternating different types of training runs: speed, easy, tempo, and long. I used an app called RunCoach that I found through New York Road Runners. I also incorporated cross-training, including cycling, and strength training (hello, Fhitting Room!).

3. How did Fhitting Room play a role in your training plan?
Fhitting Room played a role in my training plan in a few different ways! First, taking classes virtually and in person was a great (and fun) way to add strength training to my marathon training schedule. Second, I hosted a fundraiser class at Fhitting Room for Experience Camps, the non-profit organization that I ran the marathon for (shoutout to Kendall, who taught an incredible class). Third, I signed up to receive emails from BLD about 6 weeks before race day. These emails included many tips for getting ready for race day, including insights into best nutrition practices, drills/stretches to incorporate to feel better during race day, and on-demand strength workouts. I followed these tips religiously for the last few weeks of training, and they helped me rehab a hip injury that popped up toward the end of marathon training. Lastly, I knew some of the FHIT Pros (shoutout Eric!) would be watching the race. So, the short and long answer is – Fhitting Room played many roles in my training plan.

4. Tell us about your first FHIX?
It was so long ago, it's hard to remember! But I remember learning SO much about the safest and most effective ways to use machines, weights and kettlebells, and even my body weight. One of my favorite things about Fhitting Room is it feels like a community from the second you walk in the door. All of the staff and instructors are so personable and extremely knowledgeable.

5. Best advice for someone looking to get into running?
Start small! One of the most rewarding parts of marathon training is that you start with running a few miles and build upon your training gradually, week after week, and somehow end up running 20 miles for fun on a Saturday morning like it's nothing. Give yourself time, set a training plan, and go for it! It may get hard, but remember if you put in the training, you'll be more than ready to perform on race day. You got this!
Stef Baron: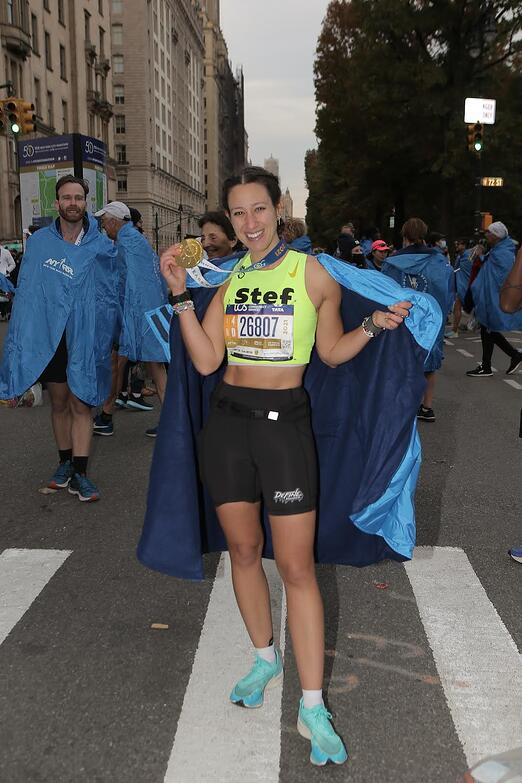 1. When/Why did you decide to run the NYC Marathon?
I showed up to my usual Saturday morning run with @definenewyork on a cold rainy morning despite wanting to spend the morning in bed. When I arrived, a friend mentioned how you can't pick the weather on marathon day and everyone started telling their rainy marathon stories. When I had told her I had never run a marathon she was in complete shock and went on telling me what an amazing experience a marathon is, especially in New York and that I had to experience it. Later that day, I went home and watched Brittany Runs a Marathon and immediately started to research and was asking friends, "how the hell do I get a bib?" The first year of the pandemic was extremely pivotal for me. I had such a huge shift in mindset that I am really proud of. Pre-pandemic, I was pretty fearful of trying new things even though I always wanted to be more adventurous. With this shift, I learned to ski, went on my first camping trip, joined a few run clubs, and ran my first half marathon. Another huge reason I wanted to do it was to show my niece and nephew that everything is possible no matter how hard or scary it may seem. The very first day that my team began their marathon training program a friend who helps lead the club ran up to me and asked, "do you want to run the New York City marathon? Our team has extra bibs." I couldn't say YES any faster.

2. How did you train for the marathon?
In the beginning, I went full send with my training. I found myself wanting to take part in every community race and participate in every run club which led me to really drain my body and get sick. From there on out, I learned that it's super important not to compare your training to other runners who may be more experienced. From there on out my schedule went something like this-
Monday- 30 min strength for runner specific workouts
Tuesday- 4-5 miles by myself or with Rage and Release
Wednesday- Fhitting Room or independent training with Dennys
Thursday – Hill Repeats (essential in my opinion!) with @definenewyork
Friday – Rest
Saturday – Long run with @definenewyork (then eat a whole pizza)
Sunday – Rest
3. How did Fhitting Room play a role in your training plan?
I honestly don't even think I would be running if it wasn't for Fhitting Room. Growing up I was told I had workout-induced asthma and used an inhaler every time I went to the gym. I think through all of the classes I took at FR my body built the endurance I never had before. After I went on my first real run in March 2020 I was shocked how I was able to 1. Complete 3 miles without stopping for the first time ever and 2. Talk with a friend the whole time.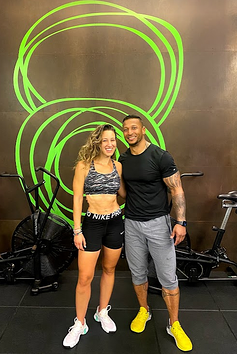 4. Tell us about your first FHIX?
My first FHIX was on the upper East side with Dennys and Troy in May 2017. I remember thinking, "what the hell did I get myself into?" and was re-evaluating how "in shape," I thought I was. I was kind of intimidated to go back after that, to be honest, but then there was a part of me that couldn't wait to go back. From there on out Fhitting Room became a huge part of my weekly routine and a place where I met some of my favorite people.

5. Best advice for someone looking to get into running?
I could go on and on with this since I still consider myself new to running. My number one piece of advice is to be patient.
Don't add mileage too quickly because that's how people get injured. On the other hand, be patient with not being able to add on the mileage as quickly as you want to. It definitely took me some time to increase my miles and a lot of times I would have to remind myself it's perfectly okay to walk a little. Lastly, be patient with your pace. It's okay not to be "fast". That comes with a lot of time and practice and something I'm excited to work on now that the marathon is behind me.
Marissa Francis: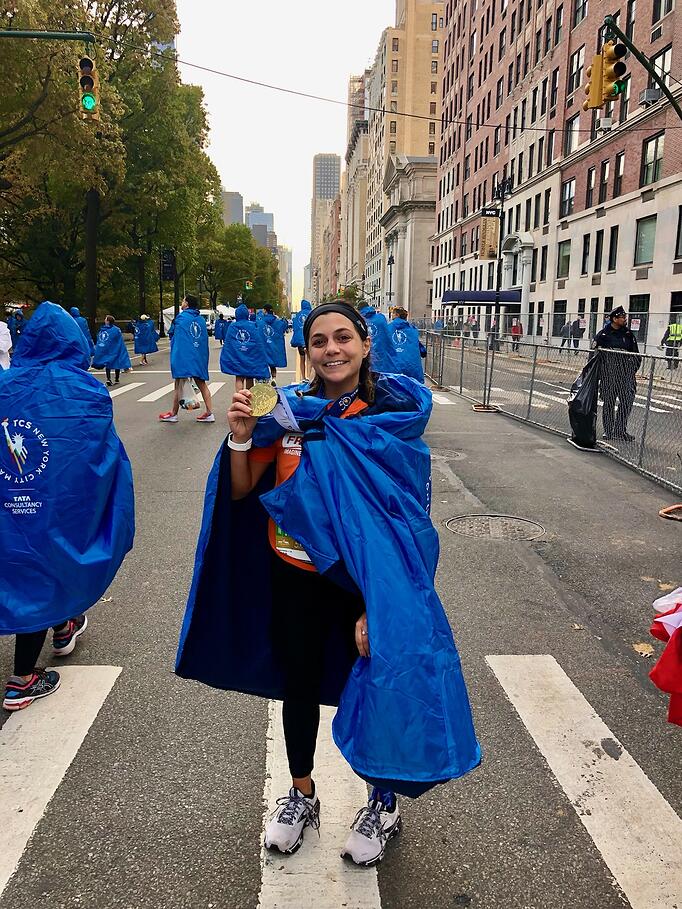 1. When/Why did you decide to run the NYC Marathon?
I ran the NYC Marathon for the first time in 2018. I have always been a lover of all things fitness and had done a few half marathons. The idea of a full marathon came to me because wanted to challenge myself. It had been a goal of mine on my mind for a while, but what really pushed me to make the decision was when a charity team I believed in (American Foundation for Suicide Prevention) had a last-minute opening about 3 months before race day. I felt like I couldn't pass up the opportunity. I ran again in 2019 with one of my best friends, who is also my fitness buddy, because I couldn't let her do it alone! This year I had been teetering on the idea of running again, especially after COVID. I decided it would be a great chance to raise money in honor of my Aunt who is currently battling cancer. Raising money for a charity that has a special place in your heart always makes the miles more meaningful. When I found out it was the 50th year of the marathon, I knew it was the year I had to do it again!

2. How did you train for the marathon?
In the past, I have followed the "Hal Higdon" training schedule where you gradually build up mileage each week. This year I joined Ben's Race Ready program and following his guidance, shifted my focus to overall fitness rather than just miles. This was a totally different approach than what I used in the past. I added in speed training, kept up with weight training, and kept my overall health a priority (nutrition and sleep) in addition to building mileage.

3. How did Fhitting Room play a role in your training plan?
I've been a lover of Fhitting Room for years and although I no longer live in NYC, I stay connected by taking LIVE! classes and following on Instagram. That's where I saw a posting about Ben's Race Ready program on the account. I have trained with BLD in tons of Fhitting Room classes in the past and follow his fitness expertise through his personal account as well. When I saw he had a Race Ready program I knew it was going to be a good one. The program helped me stay motivated and on track during the last 5 weeks leading up to the marathon. I was also able to squeeze in a LIVE! class into my busy training schedule.

4. Tell us about your first FHIX?
My first FHIX was in 2018. The same friend who I had run one of my marathons with, encouraged me to try the class because she had taken a few and enjoyed it. I remember being a little intimidated before my first class because everyone seemed so experienced! I didn't return to the studio for a few months, but as I got to know the community and kept coming back, Fhitting Room became part of our weekly routine.

5. Best advice for someone looking to get into running?
Invest in good sneakers and just go for it! I loved fitness, but I had never ran over 3 miles in my life when I started half marathon training. Mind over matter.
Congrats to all our FHIXers who ran the 50th NYC Marathon! ????
If you're interested in learning more about the importance of strength training for runners, we've broken it down into 10 reasons for you. Make sure to stay tuned on upcoming training plans led by BLD and in the meantime you can always book your next FHIX at fhittingroom.com