Frequent FHIXer (and the client who took the most classes in 2019), Jessica Gumora, is our February FHITspiration. Jessica challenged herself to take 30 classes in 30 days as a birthday milestone last year, and she's been in love ever since. With 238 FHIXes in the books in 2019, Jessica is our February FHITspiration.
A FHIXture in our Signature FHIX and Just Strength classes, Jessica has worked her way up to our infamous "pumpkin" kettlebell. Below, read about Jessica's incredible year and her best tips to stay motivated.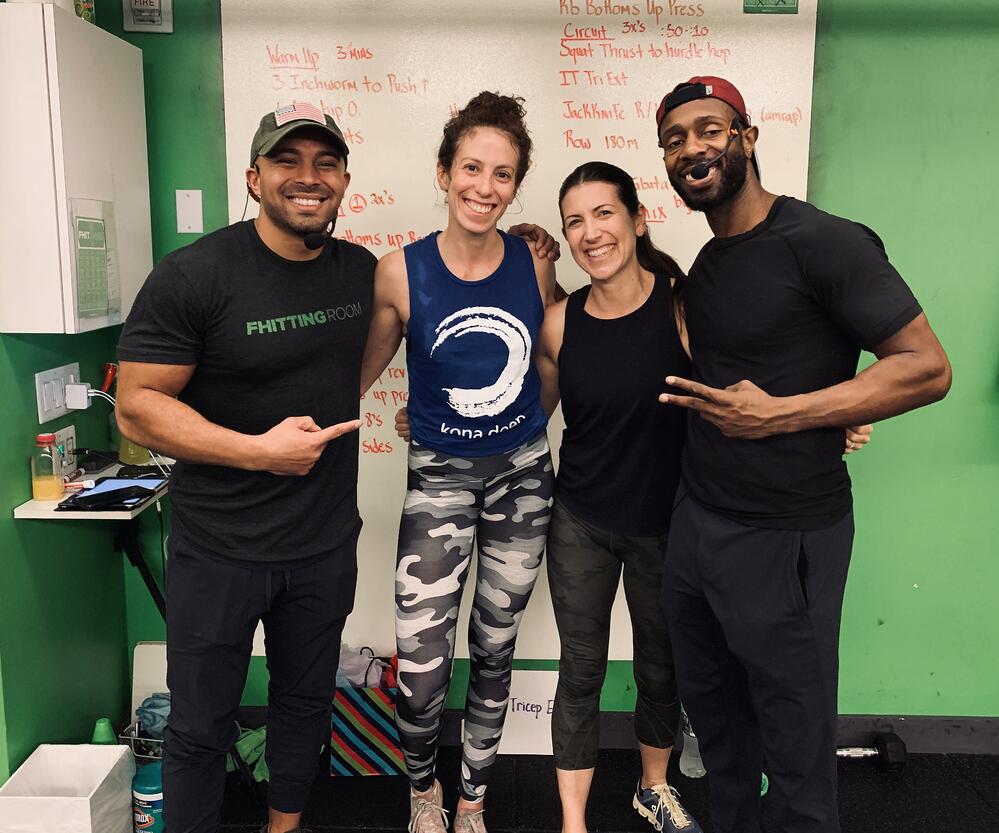 Jessica with FHITpros Farouk and Simon.
How long have you been FHIXing at Fhitting Room?
March 2020 will be my 1 year anniversary.
You took 238 classes in 2019, the most of any FHIXer! That's some true dedication. How did you do it?
It originally started as a personal challenge. I was going to take 30 classes in 30 days for my 37th Birthday. After the month was over, I was hooked. The variety of FHIXes, the instructors, and positive group setting keeps me coming back. It is now a part of my fitness routine and while I enjoy doing burpees, I still hate the assault bike.
What keeps you coming back?
Everything! I feel very lucky to be a part of the UWS Fhitting Room family. I see many of the same members every morning. We motivate each other and work hard together. The FHITpros inspire me to grow, correct my form and get stronger. It's the best way to start my day!
How does fitness influence the rest of your life?
I have always been fascinated by the agility and strength of the human body. Being fit means striving for strength physically, mentally, and emotionally. I work in the fitness industry, so I guess you could say fitness is my life. But personally being active and challenging myself physically makes me feel like I can tackle anything that comes my way.
We should have known! It is so cool that you're in the fitness industry. What led you to a career in fitness?
I have always loved teaching and used to teach art and design history. However once I became a group fitness instructor, I was able to combine my love for teaching with my passion for fitness. There is something special and inspiring about having the opportunity to help individuals feel better about themselves. I started the journey eight years ago and never looked back. I am now the Group Fitness Director at the JCC where I teach and develop group exercise classes and wellness programs. It has been a wonderful ride.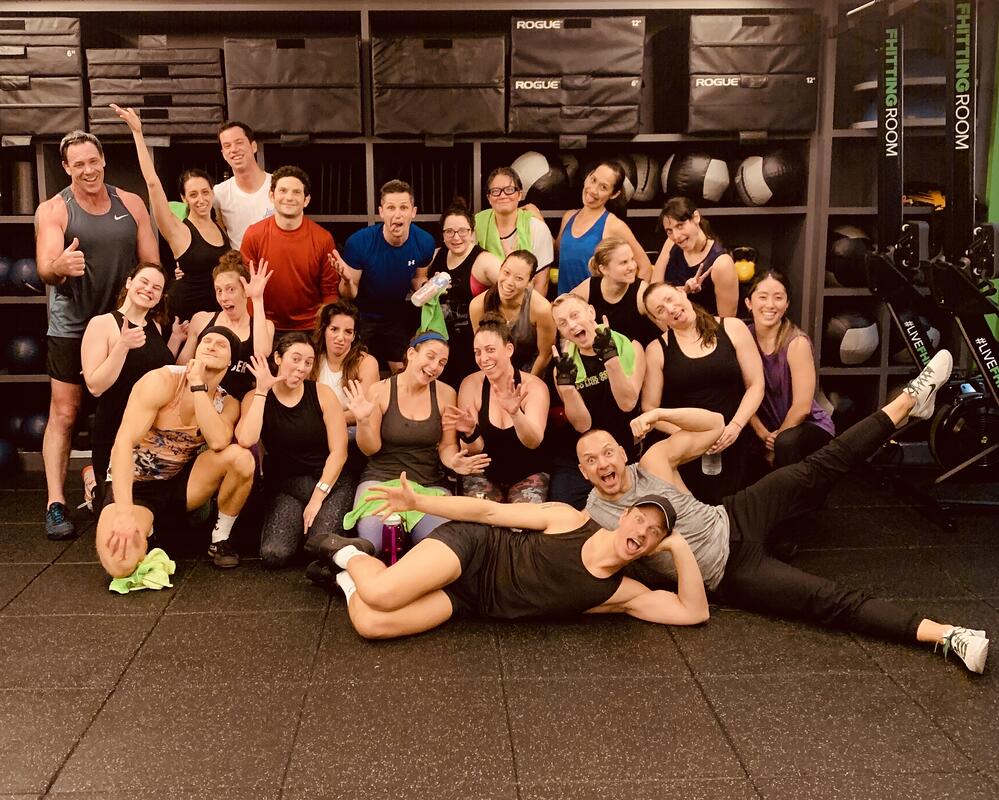 How has Fhitting Room helped you crush your fitness goals?
About two years ago I tore two tendons and broke a bone in my right hand. I was crushed. I love powerlifting, swinging kettlebells, and doing handstands and feared that I might not do these things again. The hands-on corrections and support from the pros has inspired me to keep crushing it. I am eternally grateful.
Do you have a favorite FHITpro duo or class time?
Each instructor has his/her own style, and I love them all. But if I had to pick a duo it would be Eric and Simon because their energy is ridiculously infectious. As for a class type, Just STRENGTH with Eric and Riley. I build strength while practicing kettlebell complexes – my obsession!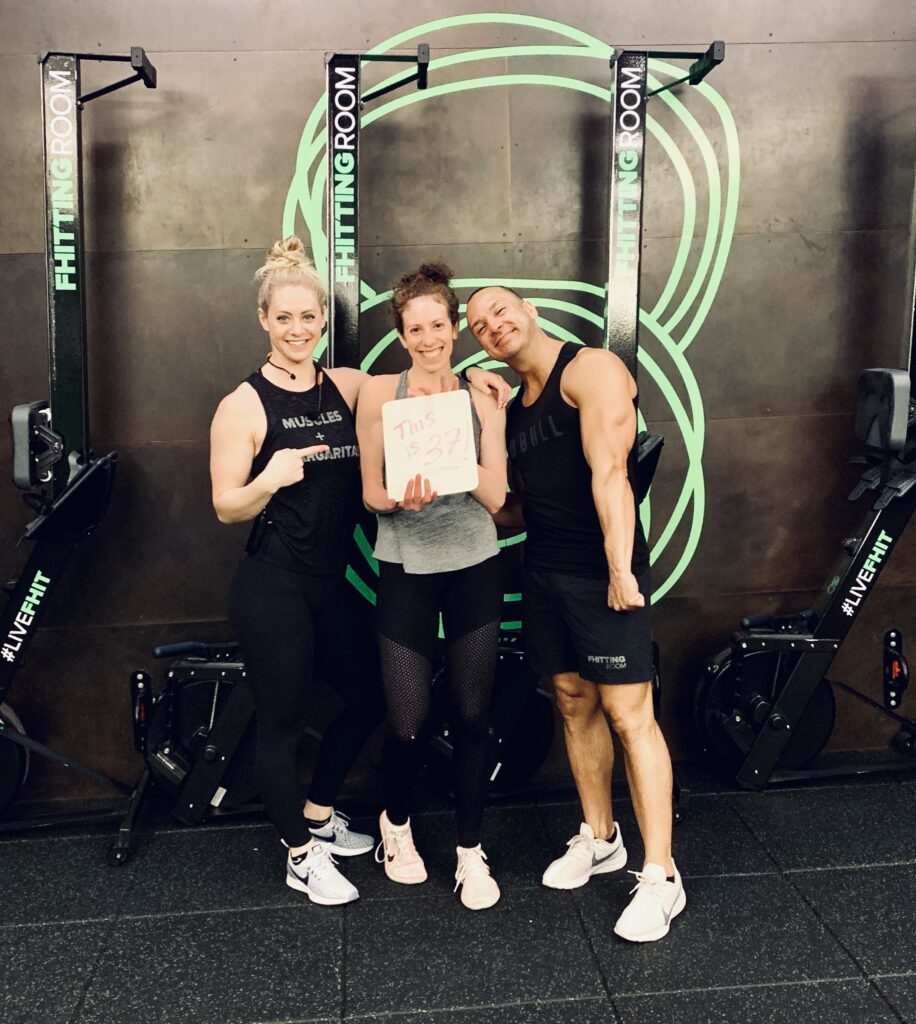 Jessica with FHITpros Kendall and Eric at her birthday FHIX.
Tell us about a recent milestone. What would you tell that person at the beginning of their journey?
I recently started swinging the "pumpkin" (32kg) and it feels so good. This might sound silly to some but for me it's progress and that is what counts. To anyone starting their journey, fall in love with the process and you will see progress.
Everyone is a beginner at one point. Do you have any advice for someone wanting to take a leap?
Just do it! The first steps are the hardest but the journey is worth it. Find ways to make it fun and when you lose your motivation, allow the discipline to carry you through.
How do you stay motivated?
I consider working out as "me" time (it's my sanity) and schedule time for it everyday. On the days I lack motivation, it is already on my calendar so I discipline myself to stick with it. I have never said to myself, "I regret that workout," but I have said, "I regret not working out."