2021 is all about fresh starts (and new fitness + health goals). As this crazy year comes to an end and we begin to look ahead into the new year, we know a lot of people will have their usual New Year's resolutions in mind.
Every year, fitness goals tend to hit the top of the list whether it's starting a fitness journey, trying new workouts, or even just incorporating some more movement during your day, especially with so many people living the WFH lifestyle still.
How can you ensure you keep your goals throughout the year? Because let's be real, we've all been there before and after 2020, we can all use some accountability!
Fhitting Room is not just another fitness class. And here's why:
Personalized Programming: Our trainers get to know each individual. They program to make sure you're always learning, constantly progressing, moving with intent, scaling back movements or suggesting you level up. You'll get a workout that's best for YOU and your goals. While there are infinite workouts you can "drop into" online, at Fhitting Room we are deliberate in all we do, so you'll always progress! *Hint* We recommend turning that zoom camera on so we can keep an eye on your form and deliver personal motivation + correction..
Community: Community isn't something we say; it's something we do. You'll never feel alone in our LIVE! classes at home because you're not. See how much you can accomplish combining the convenience of digital with the power of true personalized group fitness. Our classes connect you to people all over the world with similar goals in mind, something so important in these socially-distant times!
Science-Backed Results: It's all about working smarter, not harder. High-intensity interval training, or HIIT, is the most effective and efficient way to exercise. With short bursts of intense exercise, alternated with low intensity recovery periods, HIIT workouts provide maximum health benefits in minimal time so you can have more time to do the things you love. If you put in your own personal max effort, whatever that may be, you will see and feel results.
Functional Fitness: What's functional fitness anyways? Functional exercise simply means training the body for the activities performed in everyday life. Think pulling, pushing, pressing, squatting, picking things up + putting them down. One of the best parts about our classes is that no equipment is needed! But, if you've got that itch to invest in a piece of equipment for your home, a kettlebell is the biggest bang for your buck. If you're in the market, we love Kettlebell Kings bells (plus use code Fhitting Room at checkout for 10% off your order). Kettlebell training improves functional strength, which is one of the big things we focus on at Fhitting Room. Head Trainer, Eric Salvador tells us a little more about functional strength and how it plays a dynamic role in everyday life.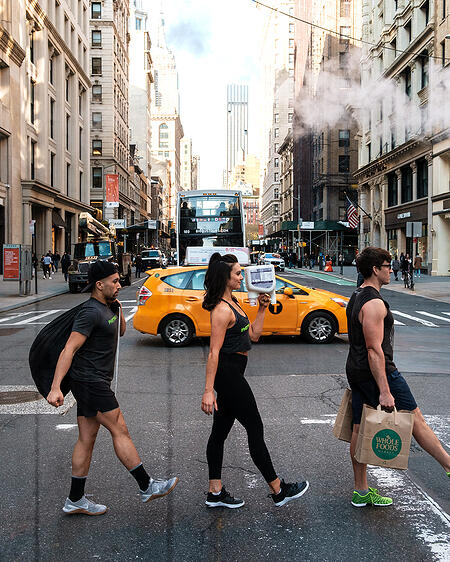 Functional strength is strength that transfers to everyday life activities. Like squatting, jumping, pushing and pulling. Training with a kettlebell allows you to also train in different planes of motion and unilaterally. Unilateral training is important because it allows us to identify imbalances in our arms and legs. If your arms & legs are the branches to a tree, your core is the trunk. Having a powerful trunk is essential in life and in order to tackle everyday life activities.
Ready to see for yourself? Book your class.