back to Blog
This NYC HIIT Class Helped One Man Lose 75 Pounds
Chase Steinberg started getting his FHIX at The Fhitting Room in February 2015. Since he started integrating our Signature FHIX classes into his weekly routine, he has lost 75 pounds and gained a tremendous amount of strength and confidence. We asked Chase how The Fhitting Room and the world of group fitness helped change his life.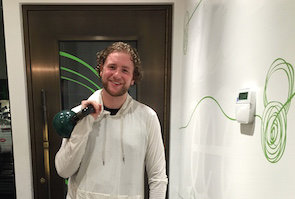 Why did you try group fitness classes over other methods?
I have found that instructor-led workouts deliver better results than whatever I would be doing on my own. The instructors at TFR don't forget what rep you're on, are not afraid to correct your poor form and show you that you can do more than you thought you possible.
Why do you think there are more women than men in your FHIT classes?
It's common knowledge that most men are hesitant to try group fitness classes because of the feminine stigma, but it comes down to perception. I don't think guys understand what goes on in TFR classes. It is not easy; it's challenging, and it totally changes your body for the better. As a guy, I want to be lean, ripped and more functional; I have found I get the best results from the program, structure and competitive nature a group setting provides.
Why do you enjoy getting your FHIX?
The instructors set The Fhitting Room apart from everywhere else. I come here for the people, and then to work hard (haha). The atmosphere is special, it's something I have not been able to find elsewhere. I also enjoy the competition. For me, competition is how the magic happens; I move a lot faster because no one wants to be the weak link, so I instinctively strive to keep up, especially next to all the strong women in class who are kicking ass!
What else have you done and why?
I tried different classes around the city and The Fhitting Room stood out to me as something I enjoyed the most. I mix it up with Crossfit and spinning every now and then.
Biggest changes you have seen in your body and life?
I lost about 75 pounds, but I focus on how well I excel fitness-wise, not on the number on the scale. I get more excited about picking up heavier weights, performing more reps and just doing better than how much weight I've lost. I see that improvement most in my FHIT classes. I keep picking up bigger dumbbells and heavier kettle bells and jumping higher than I ever could! Getting my FHIX is addicting, and I can't wait to keep going.
First FHIXperience?
My first class was with Farouk in February 2015. I will never forget it because we did tabata burpees and it was a huge wake up call because I hit a point where I thought I was not going to make it…. and it was only the beginning of class! I was scared, but the intimacy of the small class size and Farouk guiding me through every move put me at ease and got me through class. At the end I was totally winded, but Farouk kept telling me to stay with it because it will happen for me. And here I am now, 75 pounds lighter.
Biggest benefits from taking The Fhitting Room classes?
Ever since I started coming to The Fhitting Room I have had visors on to get better and never give up. The classes focus me. Working hard at TFR makes me work hard everywhere else. It's my place to zone in and set the standard for the rest of the day. Seeing how far I've come makes me better. It makes me feel like I can do anything.
The Fhitting Room classes never get easier, I just get better each and every time, and I never want to stop. I have changed my life, and The Fhitting Room has helped me do that.