back to Blog
Meet the Woman Who Came to Fhitting Room On Her Wedding Day
We're thrilled to introduce this month's FHITspiration, Randi Cohen! Randi started coming to Fhitting Room as a healthy alternative to hanging out at the bar. Flash forward three years, and Randi and her now-husband FHIXed together on their wedding day (yes, really!) Now, Randi continues to look to Fhitting Room and our pre-/post-natal certified trainers during her first pregnancy. Learn more about Randi's story and find out how Fhitting Room has landed a permanent spot in her life's routine.
1. What first brought you into Fhitting Room?
My friend and I were in the habit of getting together to try different workouts instead of going to the bar to hang out. She had heard friends say they couldn't walk after the Fhitting Room so we decided to give it a shot!
2. What was your first FHIX like? (If you can remember it!)
Intimidating! If I recall correctly, we were doing a move on the TRX and my friend and I just looked at each other and exchanged an "Oh sh*t!" glance.
3. Tell us a little bit about your journey with fitness.
I've always been an active person in that I would move my body and try to keep fit, but it wasn't until around 2007 that I started running, mainly for weight management. I went through a really hard time in 2012 and decided that I needed to do something that I didn't think was possible, so I ran a marathon. Then another in 2013. After that I needed a new physical challenge and started scoping out different NYC studios. Once I found Fhitting Room, I was hooked.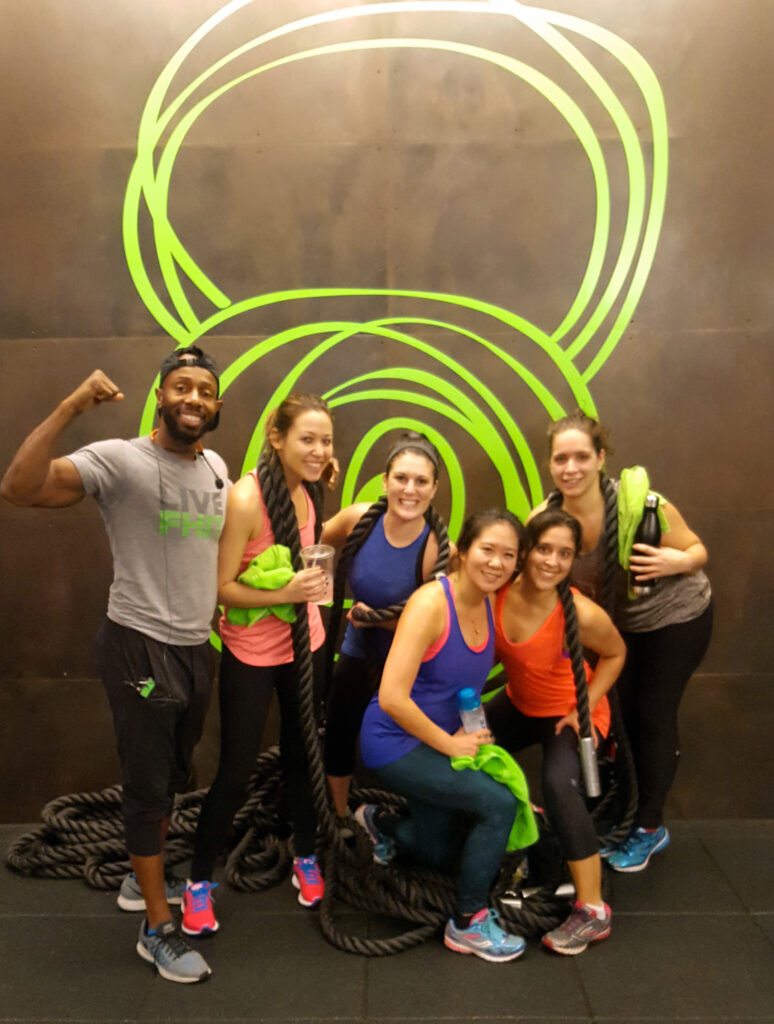 4. How has Fhitting Room helped you on your journey?
I first came to Fhitting Room in early 2016 when I was going through another period of scary transition. In those days of self doubt I would tell myself, "If the only thing you do today is hold that squat or pick up that heavy weight, then you've done something to be proud of." Since then, every time I come to class, I know that the energy in the room, the push from the trainers, and my own goals for improvement will have me leave feeling stronger and more accomplished, and that I will take that with me through the rest of my day.
5. How has Fhitting Room affected your relationship with yourself?
That's an interesting question! I think Fhitting Room has given me a place to go when I need to refocus, find some positivity, and get back to my life believing that I can do what needs to get done.
6. You've been FHIXing with us for 3 years now! What keeps you coming back?
The trainers, hands down. The beautiful thing about having 2 trainers in each class is that you get enough personal attention to feel safe and taken care of. Some of [the FHITpros] have watched me get stronger; they know that I am capable of reaching a tougher rep goal, picking up a heavier weight, etc. It is awesome to feel like someone is rooting for you! Simon, Farouk… I see you!
7. You and your husband came in for a FHIX the morning of your wedding. We have to ask… why?
Ha! My husband is a gym rat too. But we also loooooove indulging in good food, so we enjoy exercise together as a balance. We knew getting to class would be a great way to start our day feeling connected, energized, and with people who would be excited for us. After class, we high-fived it out and said goodbye to each other until we took the long walk down the aisle. I wouldn't have changed a thing.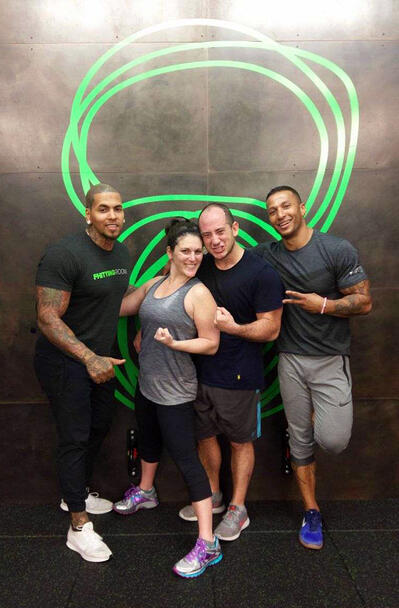 Randi and her husband after their wedding day FHIX
8. You're now FHIXing with us during your first pregnancy! Can you describe that experience?
I found out that I was expecting on a Friday morning. I came into class an hour later and told Daury. He hugged me and then laughed because he could see the terror on my face! As my pregnancy has progressed, the team has taken great care to accommodate what feels safe to me and to offer me adjustments when needed.
9. How does fitness influence the rest of your life?
Well, it makes room for more pizza and dessert, obviously! In all seriousness, I find it such an easy way to connect—with the other people pushing themselves to their limit, with the people giving a sincere push, and with myself—testing what I'm made of.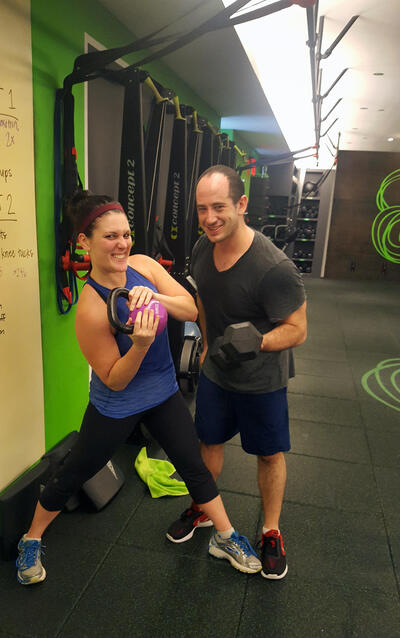 10. What keeps you moving? What's your ultimate motivation to workout?
I'd like to live a long healthy life and look good while doing it. There is also no better way to get adrenaline pumping than some loud music and keeping up with the expectations you set for yourself.
11. Favorite movement to do in class?
It has changed over time, but I think right now I'd have to say deadlifts. Bottom shelf, baby!
12. What's your workout anthem?
"Work" by Rihanna