We're excited to feature two of our frequent FHIXers + FHITspirations, Kassaundre + Manuel. If you take class In Studio often, you probably recognize them. They've been crushing classes separately for years until they met at Eric's UWS class post-pandemic, giving love at first FHIX a new meaning. With a baby on the way, Kassaundre + Manuel have continued to crush classes throughout her pregnancy journey. Read more about their Fhitting Room experience, tips for first-timers, and more!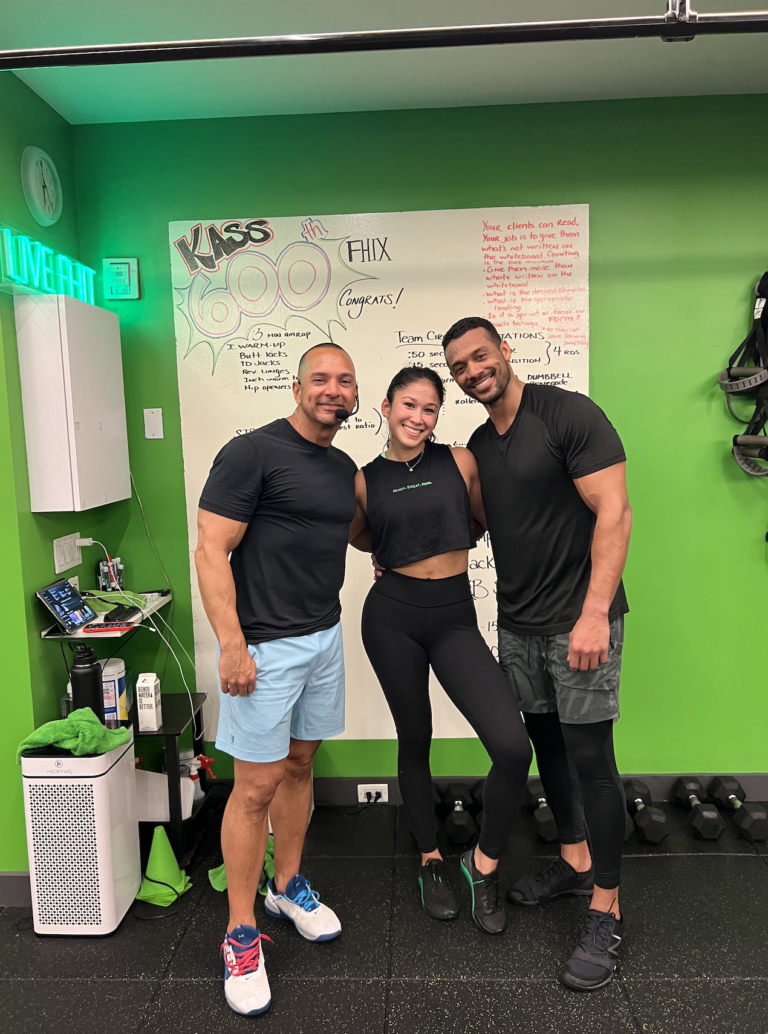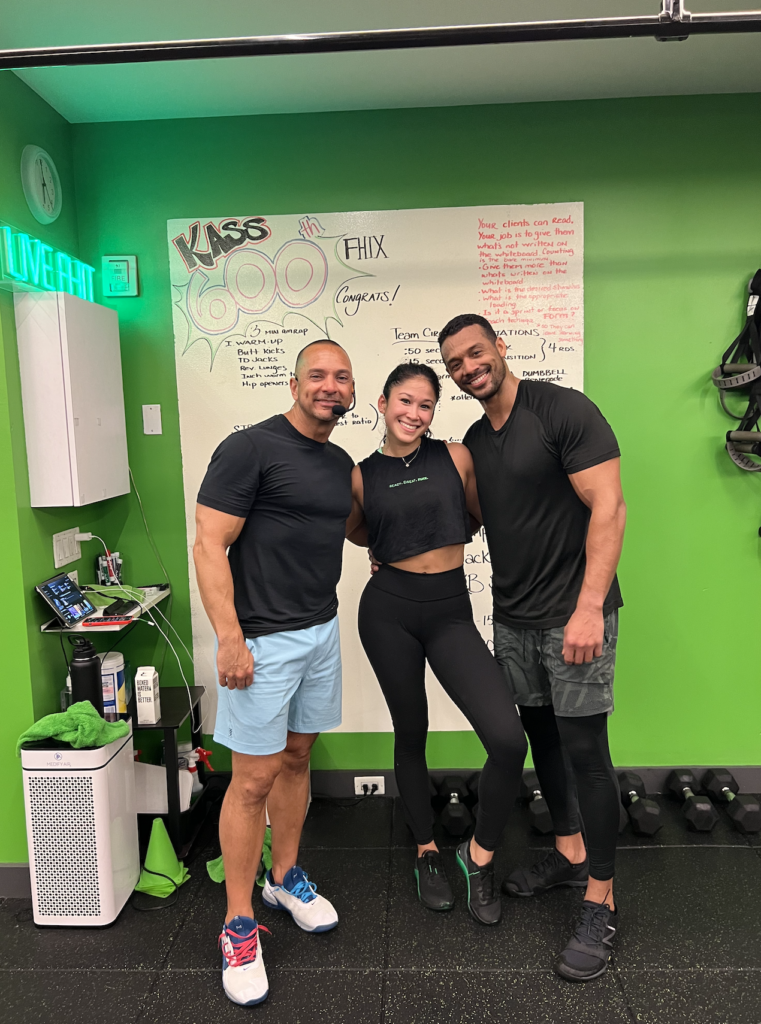 1. How did you discover Fhitting Room?
K: A friend from grad school knew I enjoyed working out and recommended giving Fhitting Room a try – I loved it right away!
M: I was bored going to a regular gym and was suffering from back pain. A good friend bought me a gift card to try a class.

2. Tell us about your first FHIXes and what keeps you both coming back?
K: My first FHIX was with Simon in the FHITPit!! I love how all of the instructors have warm, caring personalities, and knowledge! Each and every one of them genuinely care about technique and form to prevent any injuries which I really appreciate. Each instructor is kind, open, and approachable with all and any questions/concerns. I also love the format of the class – the workout is different everyday and you don't know what you're walking into until you read that white board. The overall positive environment and vibes is what keeps us coming back!
M: My first FHIX was with Eric and Amanda – I like that the instructors are very detail oriented and attentive. A good playlist comes a long way.

3. Is it true that you met through Fhitting Room?
K & M: That we did! Big thanks to Fhitting Room and our passion for FHITNESS.

4. How has Fhitting Room played a role in your pregnancy journey?
K: Fhitting Room has played a tremendous role throughout my pregnancy. With all of the physical, hormonal, and emotional changes pregnancy brings, it has kept me mentally sane throughout. I love that I am still able to hold onto this part of my identity – it continues to bring me joy, energy, and good health. I am also extremely thankful for all of the instructors knowledge and modifications that have allowed me to continue working out this far – I hope to keep pushing until the very end of the pregnancy!
M: It's good to see Kass looking forward to staying active throughout the pregnancy – even after a long day of work she still has the drive and energy to continue taking classes.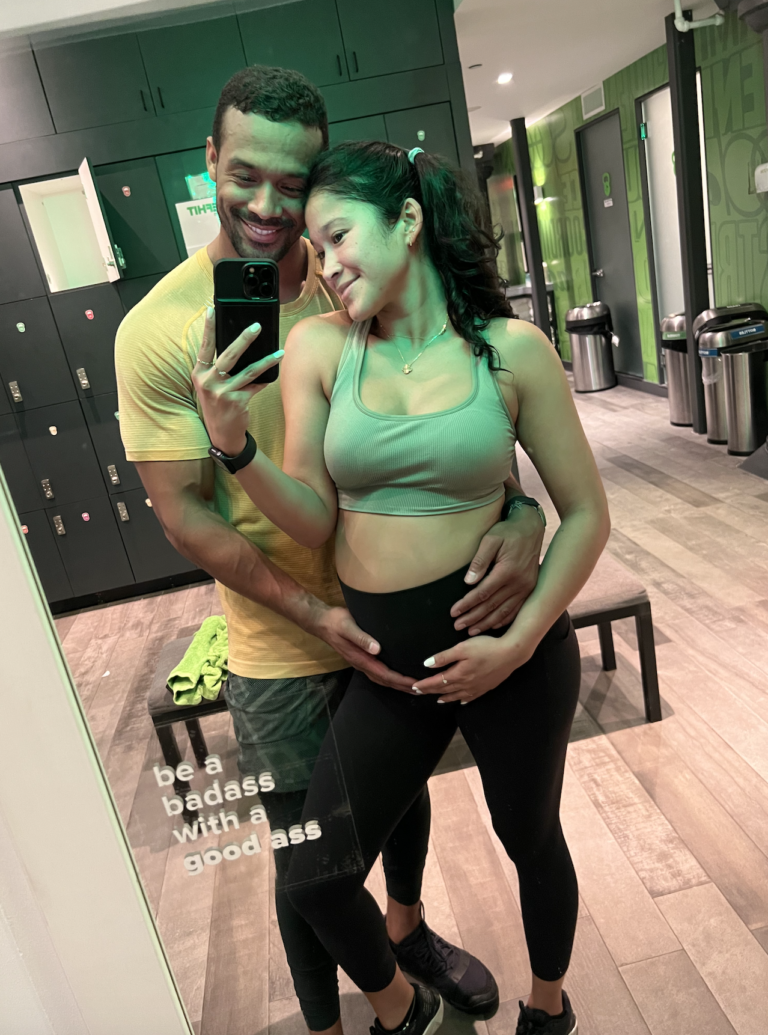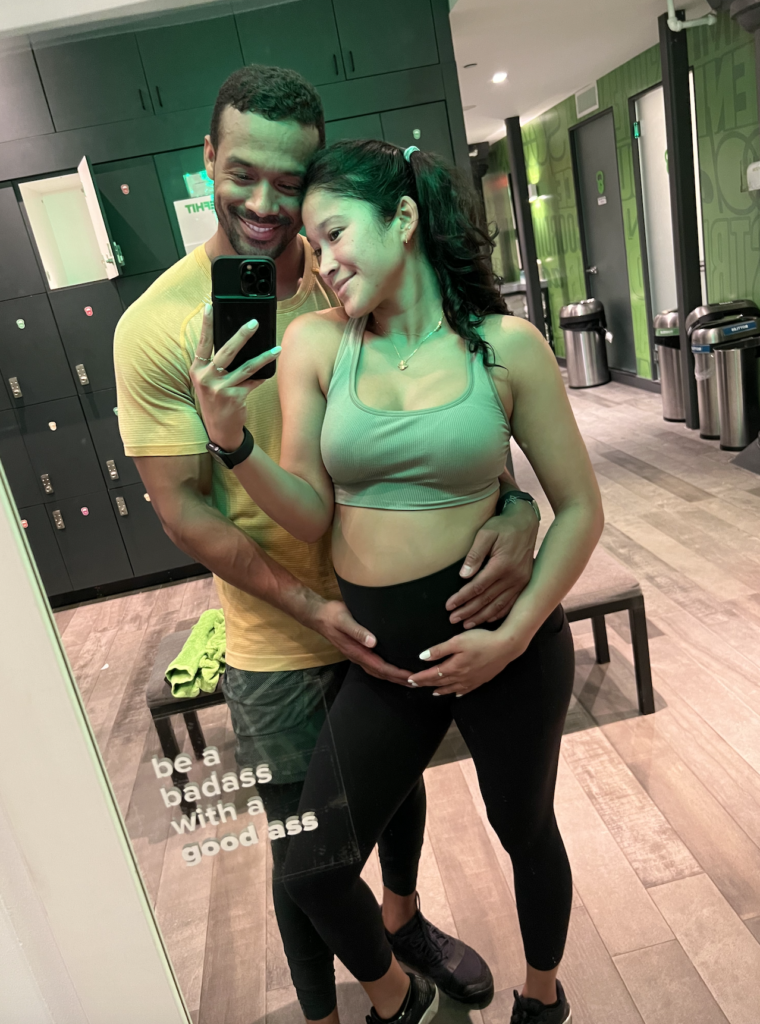 *Incorporating pre and postnatal fitness into your routine can have tremendous benefits to your health from easing many of the discomforts that come with pregnancy to a faster recovery. Read more about why you should be pre/postnatal training here.

5. How have your fitness routines evolved?
K: When I started Fhitting Room, I was in grad school so I was able to go about twice a week. After grad school, that changed from 4-6 times a week. Throughout my pregnancy, I luckily have been able to keep a similar routine where I've been able to still go 3-4 times a week.
M: My knowledge of fitness has evolved after discovering Fhitting Room where I have learned that there is so much more to fitness than just the aesthetics side of it – from mobility, to power movements, and equipment such as the ski erg and assault bike. I have kept a consistent routine of at least going 3 times a week.

6. What advice would you give to a first-timer?
K: I know it can be intimidating trying a new class out of your comfort zone but do not second guess it with Fhitting Room. Everyone at Fhitting Room is welcoming and kind from the moment you step foot in the studio. After you take your first class, you will be hooked!
M: Fhitting Room is the place to go if you need to get a complete and efficient workout routine in during a reasonable amount of time, especially if you have a busy schedule.

7. What is your favorite thing about being part of the Fhitting Room community?
K & M: The friendships and relationships you make – everyone you meet is so nice and genuine. Throughout the pregnancy, from FHITPros to the Fhitting Room staff, to strangers in class, and the FHIT family we've created throughout being a part of this community, everyone has been so uplifting and supportive.

8. Do you prefer taking classes together or separately?
K & M: Together! Being able to share that common interest with your partner is motivating and fun, especially when pushing each other to go heavier in weight, to cheering one another on.

9. Favorite Fhitting Room memory?
K: Our first date hahaha where we took class together, looked our absolute worst, and still grabbed a bite after.
M: Looking forward to every Monday 5pm UWS class with Eric post pandemic because that's the class where we met…even though she was too shy to look at me or talk to me.
We hope this inspires you to find that FHIT feeling! In addition to getting a great workout, you're joining a welcoming community and you never know who you may meet!
Ready to try a class and see what we're all about? Book your FHIX here.