This month we're excited to feature frequent FHIXers + FHITspirations, Ted and Josh. They share everything from why they love Fhitting Room and have gotten in the best shape of their lives, to advice for first-timers and their plans to celebrate NYC Pride.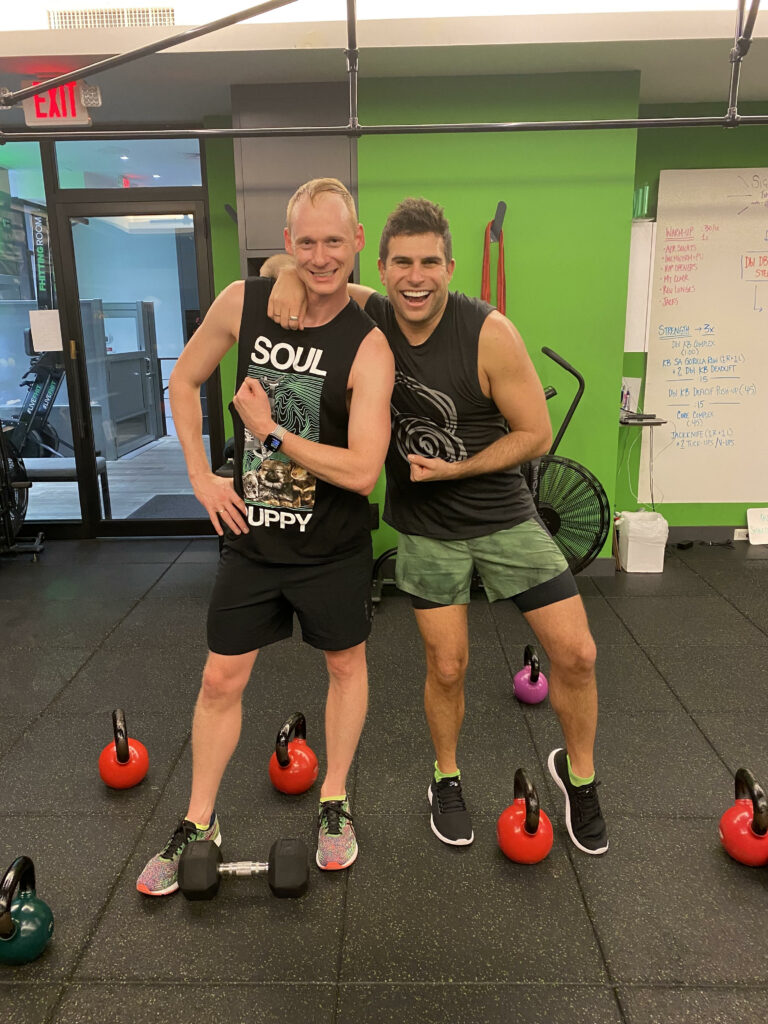 How did you discover Fhitting Room?
Josh: In 2017 one of my friends got a package for New Years and invited me to come. I took my very first class taught by former FHITpro, Mel. Mel became one of our closest friends and I've been coming to Fhitting Room ever since. It was challenging and I had never done much with kettlebells, but I felt so good after. At the time I was just working with a trainer, but I absolutely loved the class setting because I was always naturally competitive so this gave me an outlet where I could channel that energy without actually competing.
What do you love about Fhitting Room + what keeps you coming back?
Josh: I always feel good after class even if it's tough. Knowing I've accomplished that makes everything else I will do that day feel that much easier. It's also such a mood booster. You leave feeling so good and accomplished. This is the strongest I have ever felt. As a former marathoner and competitive athlete, I think Fhitting Room classes are more realistic and more fun. They provide me with a way to challenge myself each day. I was even walking my dog recently and I noticed someone from class on the street. While we chatted she noted she had started taking classes after having two kids and had already noticed such a difference. It's also something fun Ted and I can do together. When there are partner workouts it's super fun to pair up and do it together.
Ted: The type of workout is exactly what I am looking for. Fhitting Room has figured out the structure perfectly between cardio + strength. I want a combination of both. Not only do I feel good, but I also have the best body I have ever had. The trainers are also so nice and personable. What I love the most is that they spend a lot of time on form. I used to teach yoga and form was so important. It's hard to go to other classes and not see instructors properly correcting form. Fhitting Room is also very accepting and I always feel so comfortable. They've done such a great job creating an amazing community.
What advice do you have for a first-timer?
Josh: Stick with it! Check your ego at the door because the first time may feel hard, but it gets better. A mantra I live by and love saying is: You're not good at it YET, keyword yet. It takes time. There are skills I am still working on even after coming for several years. For example, I am still working on dead cleans because there are aspects that you can always work on and focus on form. If the first class was hard, give it another try! Plus, the FHITpros always make an effort to give extra attention to first-timers.
Ted: Listen to the instructor because it's easy to zone out. They give great advice and instructions. It can't be said enough how welcoming and friendly the instructors are.
Are you doing anything special to celebrate Pride this year?
Ted: I work at a non-profit called The Door and we are planning a bunch of events. The Door's mission is to empower young people to reach their potential by providing comprehensive youth development services in a diverse and caring environment. I will be walking the Pride March with The Door and encourage people to come support.
Josh: I am a psychologist and I work primarily with kids and adolescents. There are a lot of people who may be celebrating their first Pride this year, so it's so fun seeing them experiencing it for the first time. It may feel overwhelming but pick something fun and go to that. It doesn't have to be the march because luckily it comes around every year! We will be going to drag shows and definitely celebrating being comfortable being who we are!
Ready to fall in love at first FHIX? Book your next class In Studio or LIVE! at home.