Our FHITspiration series features members of our FHIT family who are inspiring our community. In honor of Breast Cancer Awareness Month, we're featuring frequent FHIXer, Kacey Koeppel, who is also the Vice President of Philanthropy at Red Door Community, the preeminent nonprofit cancer support organization. Learn more about this wonderful organization, how you can get involved, and how Fhitting Room has played an important role in Kacey's life since 2013. 
Can you tell us more about Red Door Community and your role there?
For over 27 years, Red Door Community (formerly Gilda's Club, NYC) has provided 100% FREE emotional and educational support to anyone and everyone impacted by cancer.
My role as Vice President of Philanthropy at Red Door Community is to raise funds and awareness for our programs, to meet the ever-growing needs of cancer patients and their families – adults, teens, and children, who have come to rely on us for knowledge, hope, and empowerment during one of the most difficult times in their lives.
The past year has been an amazing year of growth — and it has confirmed the growing need for our FREE comprehensive cancer care.
Here is what we have accomplished in 2022:
13,000+ virtual visits
950 support groups
820 educational workshops & lectures
265 individual counseling sessions
50% growth in participation since 2020
What are some ways Red Door is making an impact?
For better or worse, Cancer is not going away anytime soon, and we have yet to fully understand the long-term impact COVID-19 will have on us all. The disruption of health services over the last two years has resulted in millions of missed or postponed appointments, screenings, and follow-ups for patients, and the American Cancer Society reports an anticipated 1.9 million new cancer cases in the United States will be diagnosed by the end of this year, alone. The need for Red Door Community is critical now more than ever — We believe that no one should face cancer alone. Not today. Not tomorrow. Not ever.
Here are some quotes from Red Door Community members, who have directly benefitted from our programs:
"Because of Red Door I don't ever have to feel alone, and I don't have to choose if I'm going to laugh or cry because I know that both are OK and good and allowed. Sometimes they even happen at the same time."
"This is the place that for 2-1/2 years and counting has been a source of comfort and support during the most horrific, most surreal period of my family's lives, and to have a place in our community providing such vital services, for free is just an amazing, noble thing."
"I say this from the depths of my heart that the women in my support group mean so much to me, and I would not be able to navigate this road without them. Because to me, cancer is just the beginning, and as Red Door Community says, you should never have to face it alone. And none of us ever will."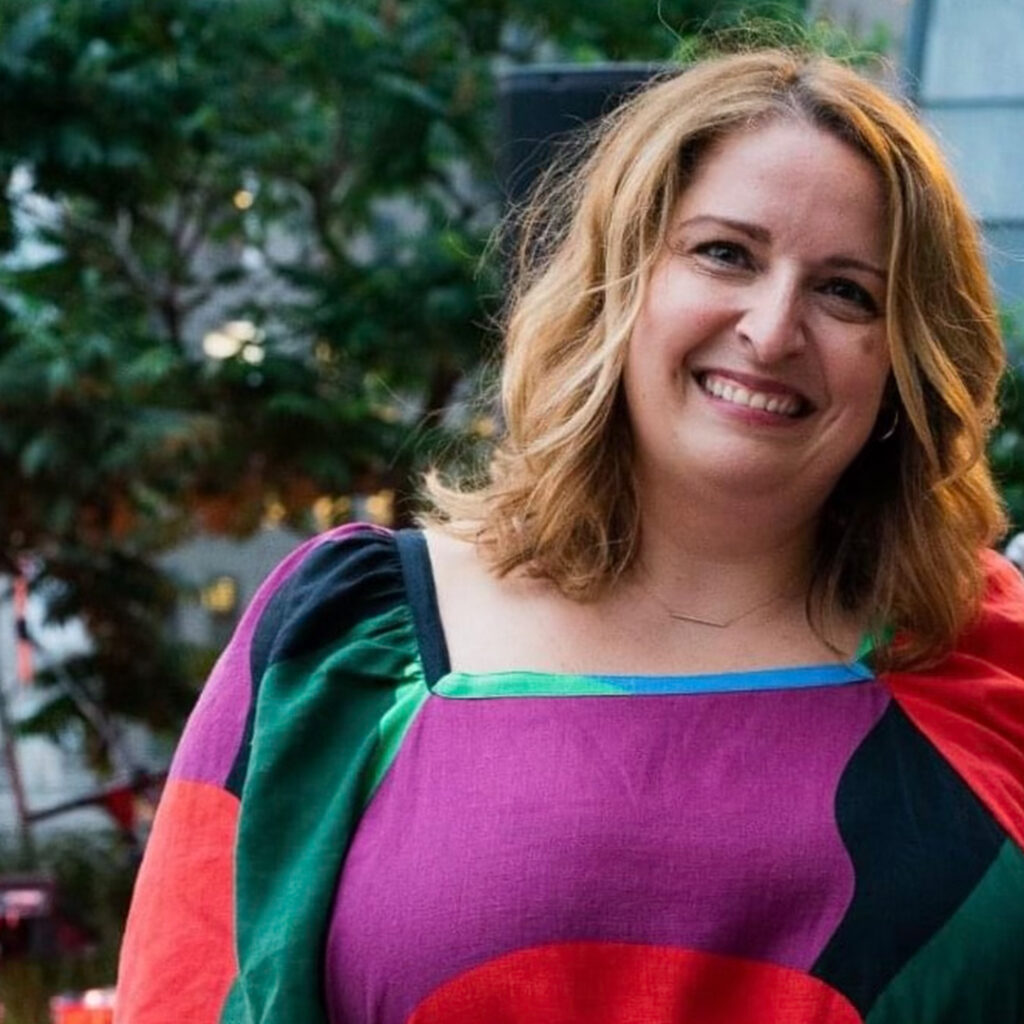 When did you start coming to Fhitting Room and how do our classes play a role in your life?
I have been coming to Fhitting Room since literally the first week. My first class was with Ben Wegman in the original studio on the Upper East Side. I think it was February of 2013…and I have been hooked ever since.
When you dedicate your career to a mission-based organization there's an added stress that comes with the responsibility you feel toward the people you're helping.
Fhitting Room not only has been an outlet for me to relieve stress but also has provided me with a sense of community that keeps me motivated. I know when I walk into the studio, I'll be met with a positive energy that inspires me to keep going forward, despite how challenging the workout is that day. It is this same mentality that we at Red Door Community bring to our members who are facing the most difficult challenge of all – living with cancer.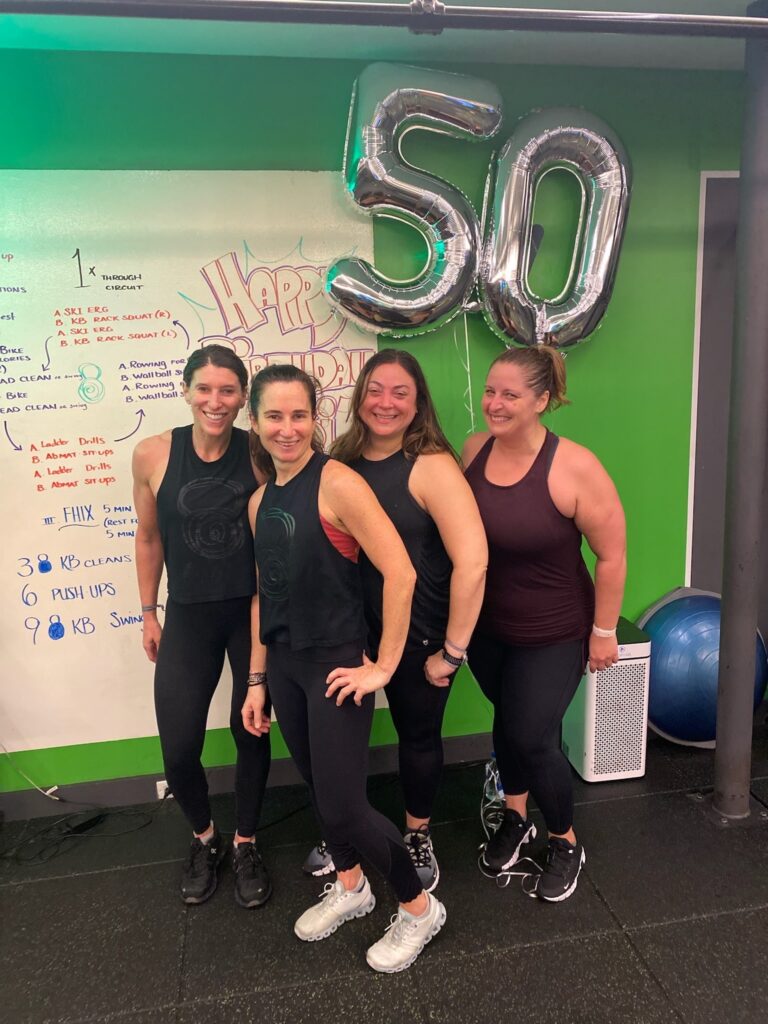 How can the Fhitting Room community get involved?
Donate: From individuals to small groups to large corporations – there are several ways you can give back and make a difference in the lives of cancer patients and their families.
Join a Team: Red Door Community is proud to be an official charity partner of both the TCS New York City Marathon and the TD Five Boro Bike Tour. You can support by becoming a Red Door Runner or a Red Door Rider.
Join our Bunny Bunny Monthly Giving Society: A recurring monthly donation helps to ensure that Red Door Community has the resources to provide support to anyone and everyone impacted by cancer. Every gift directly impacts our members participating in support groups, healthy lifestyle workshops, and educational lectures.
Volunteer: Our community of volunteers donates their time and expertise to our mission. Annually, about 300 volunteers provide close to 3,500 hours of service – the equivalent of approximately $80,000 in savings for our organization.
Become a member: If you or a loved one are impacted by cancer, Red Door Community is here for you. You can always become a member and join our 100% free cancer support programs.
We're so honored to have such inspiring members in our FHIT Family, like Kacey, making a positive impact in our community. You can learn even more about the Red Door Community here or make a direct donation via our Fhitting Room fundraiser. And if you're looking for a sense of community or an outlet to de-stress as Kacey mentioned, come in and try a Fhitting Room class!