Meet frequent FHIXers and current FHITspirations Katie + Mark! The couple loves both in-studio classes and taking their kettlebells on the go (they currently take LIVE! classes on their deck in the Hamptons.) Fhitting Room has helped Katie both pre-and post-natal, been a powerful tool for Mark in staying healthy, and is one of their favorite NYC staples to share with friends and family. Read more: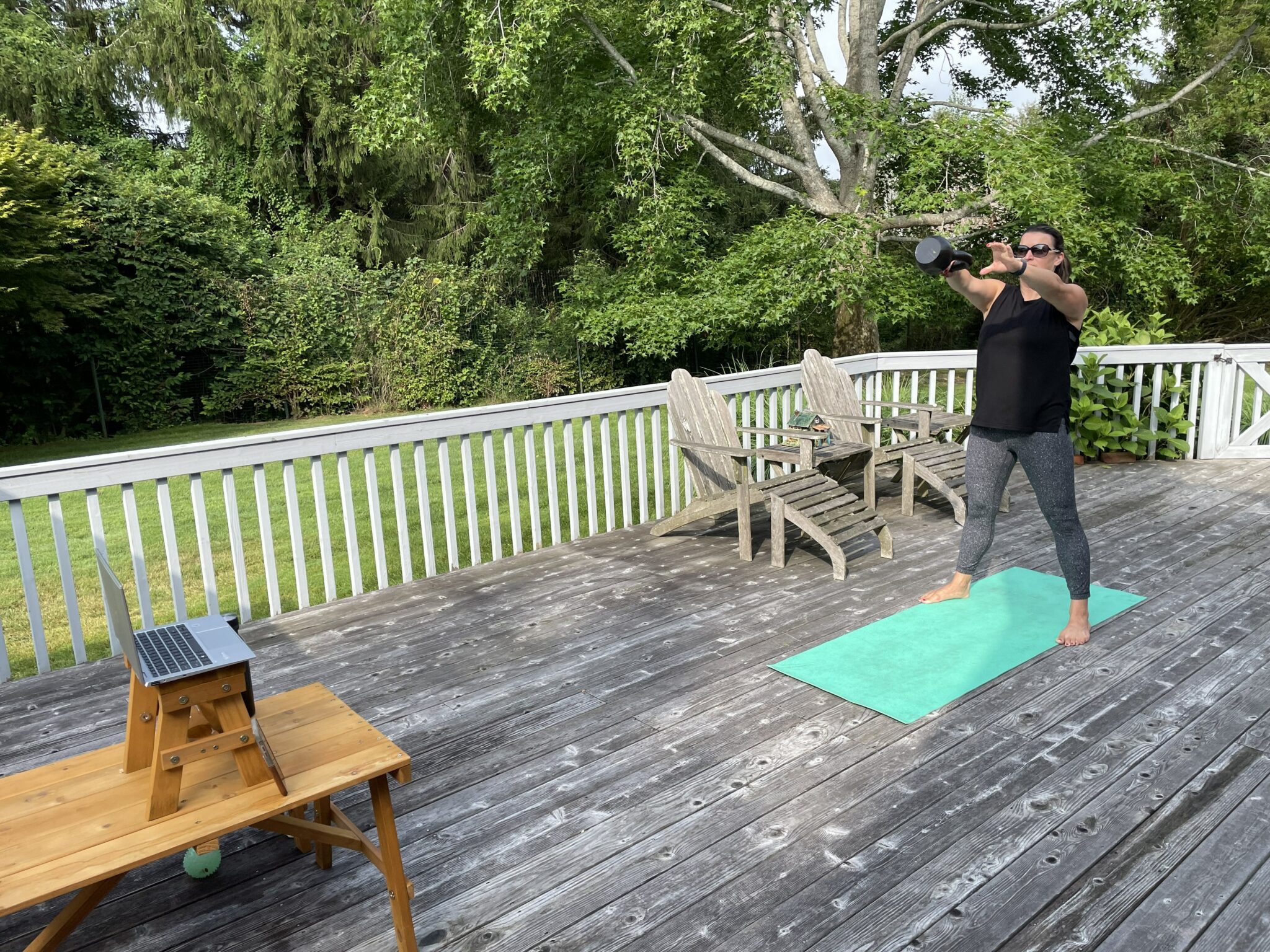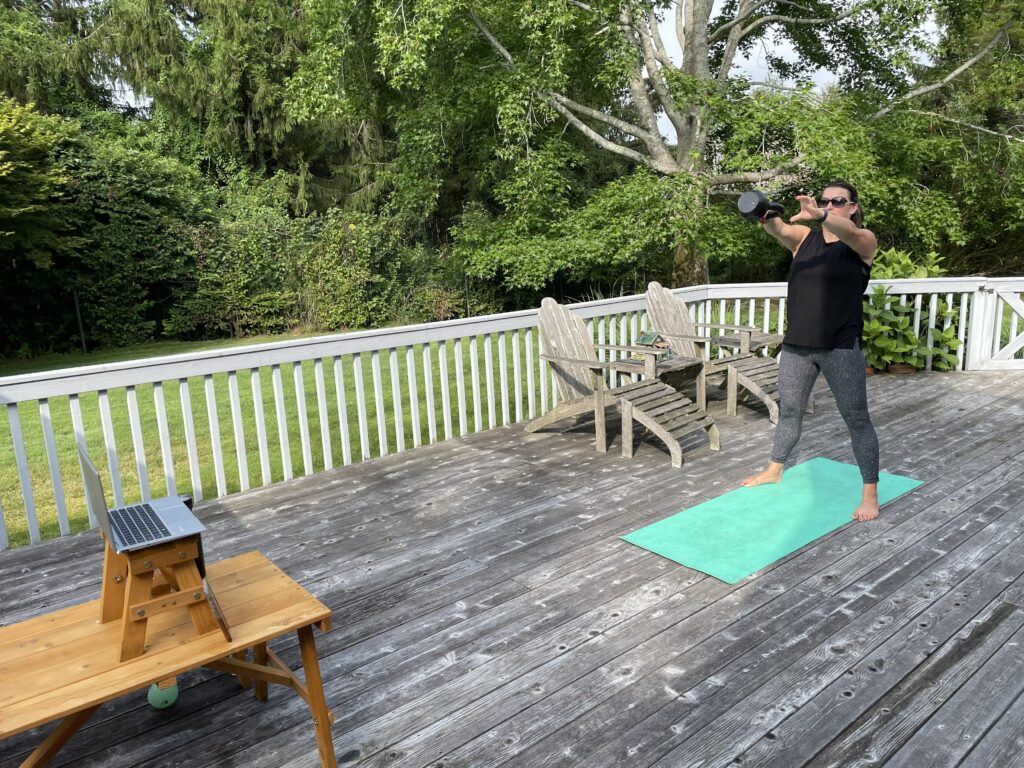 Tell us about your first FHIX:
Katie: Mark and I had a personal trainer in North Carolina when we were getting ready to get married and loved him, and we felt that that was lacking for us in New York. We just couldn't find the right gym or workout or instructors. My very first time at Fhitting Room, which was the location on Lexington, I remember coming home and telling Mark, this is it. Once the UES location opened I was there a ton, and now the UWS studio is right near our apartment. It just felt like we were getting the personal training in a group experience. We loved it.
Mark: In 2003 we went to a studio founded by former UNC Chapel Hill athletes. We were using kettlebells and doing burpees almost 20 years ago and didn't realize it was so cutting edge. My first Fhitting Room class was actually a pop-up class in the Hamptons through Classpass. At nearly the same time I went to a class through my gym at the time and loved the workout. I was doing burpees and bear crawls and I loved the instructor and told Katie that she had to try it. When I went to my second Fhitting Room class, at the new studio on the UWS, it was with that instructor that I'd loved…it was Simon. He looked at me and recognized me right off the bat. To this day I still think that Simon is one of the best instructors in the city.
How did Fhitting Room LIVE! help you to stay connected during the pandemic?

Katie: It's still helping us. When everything went virtual I was very pregnant with our second child, so after the baby was born and once I was cleared to exercise I jumped right back in. I was worried that over a virtual platform I wouldn't get postpartum corrections and I was wrong. They still gave me personal attention and modifications. LIVE! helped me maintain my sanity and it was a huge relief that you were still going to be around on the other side. Now we use LIVE! when we travel. We both work remotely and it's so nice to be able to do the same workout when we're remote and when we're traveling, along with the in-studio option when we're home.

How has Fhitting Room helped you to live healthier lifestyles?

Mark: I lost around 50 lbs between 2017-2019. I was post-surgery and going to dinners a lot and it was just time to figure it out. Now I'm probably in my best shape since high school when I was an athlete. I'm older and creakier now but I'm definitely in my best shape.

Katie: Between having 2 kids over the past 4 years, gaining and then losing weight, and repeating that, it's a really tough road to come back from. Just being able to stay healthy and stay active is huge. It's also nice that the Fhitting Room community always gushes over our kids. I came to classes until I was 39-weeks with my first and then until 36-weeks with my second, and it felt good to stay active pre-and post-pregnancy.



What keeps you coming back?

Mark: It's a workout style that I like. They're efficient, they work, and I don't get bored. The quality of instructors is heads and tails above other studios. The community has been great, through LIVE! and at the UWS studio, we really feel it. Everyone always asks how the kids are, and it's just different than other boutique gyms. We weren't looking for that community specifically but found it.

Katie: You said it all.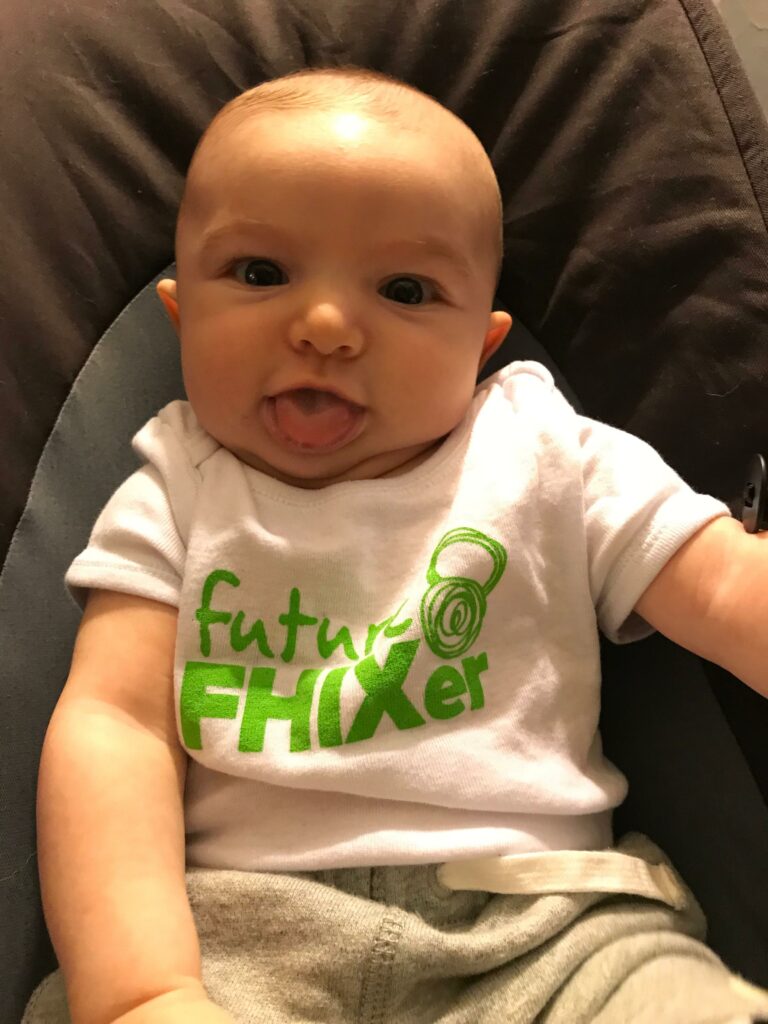 Mark: I remember being signed up for class on Tuesday and Thursday that week, and shut down started on Wednesday. A few days later I think we got the email about virtual classes. I remember signing into class with Ben Wegman, and it was just emotional for everyone. There was still that connection. It helped me to stay in shape, and LIVE! is fantastic because I like to have that appointment to keep me accountable. Once things started to open back up I started traveling again, but I find hotel gyms to be some of the most depressing places on the planet. They're super sad and dark, and you kind of force yourself to go. Fhitting Room LIVE! has made hotel gyms way more tolerable. We're going to the Hamptons for the month of August and will be streaming classes from the deck.

Katie: Our friends just did classes from their hotel room in Spain!
How did it feel returning to in-person classes?
Katie: Amazing.

Mark: The first day that I went Riley was teaching with the safety squares. It felt very surreal, and then my first vax-only class was with Dennys on a Friday. It's starting to feel more normal now. Also, it is definitely harder! I'm so glad to be back in the studio, but I'm not sure I missed the assault bike.

Katie: I love having a larger choice of kettlebells again! I love being back and having all my options…and being sore for a few days each time after I go. I missed that.


What would you tell someone who's never taken a class?

Mark: We've actually brought friends who were in from out of town. We always talk about how good of a workout it is and how good the instructors are.

Katie: I always tell people that it's not only a great workout but you can completely scale it to your level of fitness. I can do it at 39 weeks pregnant and someone who's about to run a triathlon can go in and get a killer workout. The workout itself can cater to your needs and then the instructors will give you modifications without feeling like you're not as good. It's a nice array of people in class from all different life and experience levels. I had my mom do LIVE! classes with me during quarantine.

Mark: My mom does too! But she doesn't like to turn her camera on. She's in her early 70s. She loves going on runs, took her first bodyweight class, and then bought a membership.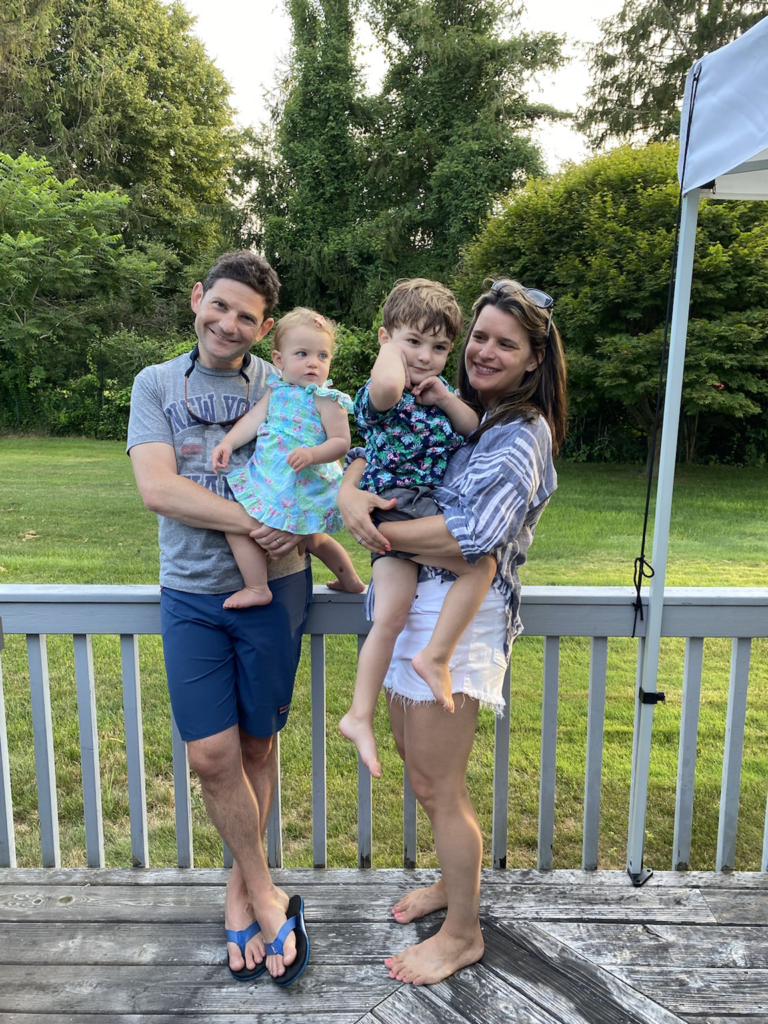 Favorite/least favorite movements?
Mark: Least favorite are thrusters. I don't even mind burpees. Thrusters I don't like at all. I'm pretty good at box jumps, and I love any move with kettlebells. I'm a scientist by training so I like the technical aspect of kettlebell skills.
Katie: I do not like froggers. I'd rather do a squat thrust or a burpee. My favorite move I would say is anything core-related.