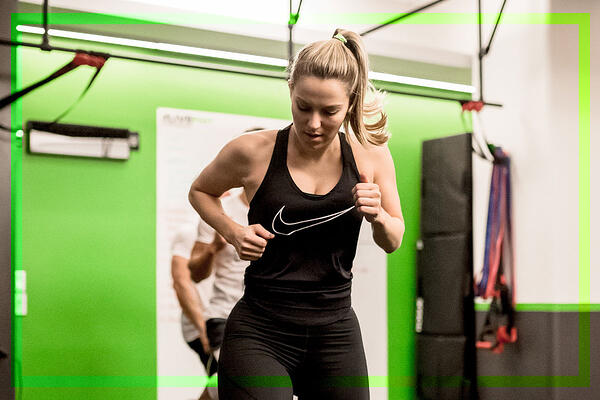 When thinking of the next FHITpreneur to highlight, we could think of none other than Sloan Symington. Once our social media and marketing maven now a full blown fashion designer residing in Los Angeles, Sloan fits the bill for entrepreneurship and does it with incredible style. We were honored to share her story, including how her time at Fhitting Room helped prepare her to launch her own fashion line.
You're not just a FHIXer, you were Fhitting Room's Marketing + Media Director for over three years. Tell us a little about that.
I started at Fhitting Room back in 2014, I can still remember my first class with Daury and Eric. I was In the Interview process, and that class rocked my world. I wasn't much of a group fitness gal before that, but I quickly changed my tune after that. The mix of the trainer's engaging personalities, music and motivation of being around others was unlike anything I had ever experienced. Once I started at Fhitting Room, everything moved quickly- we had one studio on the UES and Flatiron was a work in progress. Coming from the world of fashion, it was such a breath of fresh air to work somewhere that the business' mission was to make people healthier and happier. Working for a growing and evolving business was really exciting, everyday had new challenges and I loved that I got to wear so many hats. It also didn't hurt that I worked with some pretty amazing people- I can honestly say Fhitting Room introduced me to some of my best people I'll ever find. For that reason, it will always have a place in my heart – even with living on the west coast now, I'll always find time to take a live class.
How and when did you first hear about Fhitting Room?
I first found out about Fhitting Room because I lived down the street from the original location; It was such a bright spot on that block. Then when I saw they were hiring, I knew I had to apply.
What was your first impression?
After my first class, I walked home and sat on my front doorstep of my 5th floor walkup for at least half an hour before I worked up the courage to climb up those 5 flights of stairs. The way I worked out before that was so isolated- headphones in on a treadmill or doing strength workouts. The idea that you could mix strength, cardio, and fun with a friend into a workout was life changing.
What did you love most about working at Fhitting Room?
I never got tired of hearing people's stories of how this place with lots of green and kettlebells made them so happy. It really was inspiring.
What lesson did you learn at Fhitting Room that helps you most as an entrepreneur?
I learned so much about building a brand and telling your story – It was also one of the main reasons why I wanted to work there. I wanted to come along on the journey of building a brand and a business that I knew would resonate with people. It's something I think a lot about with my own line, Sloan Symington. How do I take my personal experiences of how and why I created this line and make it relatable and important to someone else?
Any favorite Fhitting Room moments?
There's many favorites, but there are a few that take the cake. The night after my husband and I got engaged, we went and took class the next morning with Ben W. and Carlos. Fhitting Room was such a big part of our lives at that point, it was only natural to work off our hangover from the engagement party the night before. 🙂
Another top moment was when Melody taught us our first dance for our wedding. I remember casually mentioning to her that we wanted to do the dance from Dirty Dancing at the front desk and she said she'd teach us. For about 2-3 months, we'd meet her In the FHITpit on Sundays after classes were over and we learned the whole thing there. I still love watching some of the videos from our first dance because I can hear Mel in the background cheering us on!
You now live in LA; how does getting your FHIX continue to play a role in your life?
I love to take classes on the weekends, the 12pm EST is perfect for my husband and I. We usually find ourselves taking class with Kari or Liz B. So It's a great way to get a workout in and catch up with old friends.
Your story is pretty remarkable. You went to school for fashion design, you worked in fashion before Fhitting Room, and recently launched your very own fashion line. What's the inspiration behind Sloan Symington?
I spent a lot of time thinking about what this brand would be and what It would represent. Clothes should make you feel confident, strong, and your ass look good- no matter what your body type is. We need better representation in fashion overall. Coming from a luxury fashion brand before Fhitting Room; I was always so conflicted about the way brands would show their clothing on the runway and online. The models only were size 0/ 2 and 5″9 and above. I was always just wondering what a piece looked like on lots of body types, not just one "made up ideal". So that's a huge part of the brand, lots of different people wearing real clothes. All the photos on my site are friends who brought this idea to life and I'm really proud of that.
Tell us what "Elevated Everyday Essentials" means.
I think living in NYC really cemented the idea of elevated everyday essentials; you have limited space for stuff you are going to wear just once. I wanted to create those timeless pieces you never get tired of, that are comfortable and that you can wear a lot of ways- so think a LBD (little black dress) that you can wear year round- simple with heels and fancy earrings, belted with boots and a sweater layered over, or throw on a graphic tee knotted at the waist and a leather jacket and you've got your go to weekend brunch look. I wanted something that could do all of that and be comfy as hell. Put simply, I am making pieces that are utilitarian, versatile and comfortable. Oh and no dry cleaning necessary. Ever.
What has been your biggest challenge while building your own label? How did you navigate it?
Finding the right partners to help you bring this idea to life was really intimidating. Fortunately, everyone I have worked with so far has been incredibly helpful; Maria, the woman who does my samples and production, also referred me to great fabric mills, label makers, pattern makers, etc. Getting partners to work with me while I have small orders has been a challenge, but I have been really lucky so far.
What's your best piece of advice for someone who wants to start their own company?
Make sure it's something you really want to do- deeply and passionately, not as a hobby but as a business. There's lots of not so graceful parts like schlepping giant bolts of fabric all over Los Angeles, picking up patterns and delivering them from the graders to the fabric cutters to then the production sewer. There's lots of that sort of stuff that I'm doing in what would normally be my "off time" from my full-time job. So whatever it is, make sure you're not just thinking about the "highlight reel". It personally took me a while to feel fully ready to make that commitment and make everything I was working on public. Once I made sloansymington.com live, there was no turning back.

It goes without saying that everyone here at The Fhitting Room is immensely proud of Sloan. Thank you so much for sharing your story and we are excited to bear witness to your continued success! To see more of her fabulous work and order an "Elevated everyday essential" for yourself, you can visit sloansymington.com or find her on social media @by.sloan.