Frequent FHIXer Erica Werber just crushed her 100th Fhitting Room LIVE! class (she discovered us during the pandemic, and it was love at first FHIX.) She also just launched her candle brand Literie, which is the ultimate love letter to NYC, selling scents such as Hot Roasted Nut Cart, Soft Serve from the Corner Truck, I Have a House in the Hamptons, and more. Read about Literie, where Fhitting Room fits into her busy life as a business owner and mom, and more below:

How long have you been taking classes at Fhitting Room?
I have been taking Fhitting Room for 1 year this month! I started doing the LIVE! classes right when the pandemic started. My family was sharing a pandemic house in Vermont with our best friends who were regulars, and they turned me on to it.

What keeps you coming back?
What keeps me coming back is the amount of fitness that gets accomplished in 45 minutes. The classes are intense, especially the FHIXtremes, but they go by really quickly. The music is great and of course the FHITpros are amazing. My favorite is BLD! At this point I know what to expect from his class so I can mentally prepare, although sometimes he likes to throw in a 45-minute EMOM just to shake things up.
Tell us about your first FHIX!
I had worked out with a personal trainer for a couple of years and was a consistent runner, so I figured the class would be easy. I was totally wrong. I was shocked at how just using body weight could be such a challenge and I was sore for so many days after. But I loved the class. Daury was funny, played great music, and checked in with me quite a bit even though there were at least 20 other people in the class.

What inspired Literie? Tell us about that beginning journey.
My family has strong ties to New York City. My parents were born in Brooklyn while I was born in Manhattan and spent my early childhood years on Staten Island. My husband lived in Queens and we married in Battery Park. We live on the Upper West Side and our kids go to school in the Bronx. I consider myself the ultimate New Yorker as my life circled all five boroughs.
This brand was inspired by my father, and his love of hot roasted nuts from the carts in midtown. Those carts always reminded me of him and one day while walking by one, I decided I needed to capture that unique smell. When I started developing this candle line, I reflected on the unique places and scents that I associate with being a New Yorker and those became the core scents of the candle line.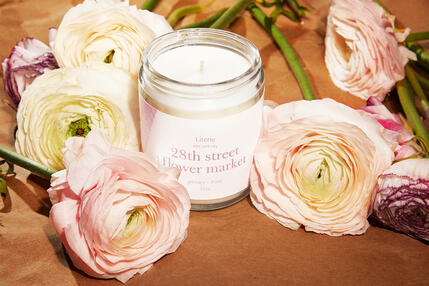 I have been a marketing and licensing professional for 20 years. As I am a partner at a branding agency called Brand Atelier, I recognized the white space for these candles for consumers and retail buyers alike. Literie is unique because there is no other candle line on the market that captures these quintessential scents of New York City.
What was the process like coming up with and testing different scents?
That process was quite funny. For each scent we wanted to produce, our lab sent us around 10 different samples in candle form. My creative partner, Kasey Bohnert, and I were lighting candles and placing them in different rooms of my apartment, closing the doors to let the scent develop and then we were moving in and out of those rooms taking notes. Once we narrowed them down, I sat with my husband and kids and they gave me their opinions on each as well. What I learned from this process is that there is no right or wrong answer when it comes to scent. Everyone's preferences are so nuanced and different.
How do you balance family, building a brand, and staying FHIT?
Fhitting Room is the one thing that keeps me balanced and anchored. I book my classes a week out and I know 2-3 times a week I am going to start the day with an intense workout. There is so much anxiety and excitement around launching a new business and the workouts just help calm all of that and clear my head. And the best part about the LIVE classes is that every so often a family member jumps in and joins me, so it's extra time with my husband or kids that I typically wouldn't have had if I was still going to the gym.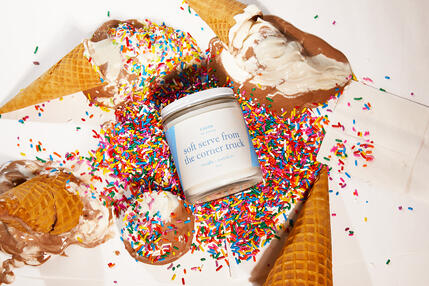 What one piece of advice would you give to other #femalefounders?
My one piece of advice to other female founders is to trust your gut. I found that when I would start to talk about this venture with other people is that their immediate reaction was to just give me unsolicited advice on everything from label colors to marketing plans. There was an assumption that I did not necessarily know what I was doing. And although I was receiving so many suggestions on what direction I should take Literie, I stuck to what I knew would be best for this brand and shut out a lot of that noise. I treated it the same way I would receive parenting advice when my kids were babies, which is not to give in to other people's opinions and doubt what you know is best.

To learn more about Literie, click here.