Our 5:45AM FHIXtreme crew is the definition of dedication. They conquer our most advanced class week after week, setting the bar high and pushing their limits like true champions, all before most people's alarms go off. 🔥💥Read about how this inspiring crew stays motivated, their best advice, and get the inside scoop on what led our Head Instructor, Eric, to start this class. 👏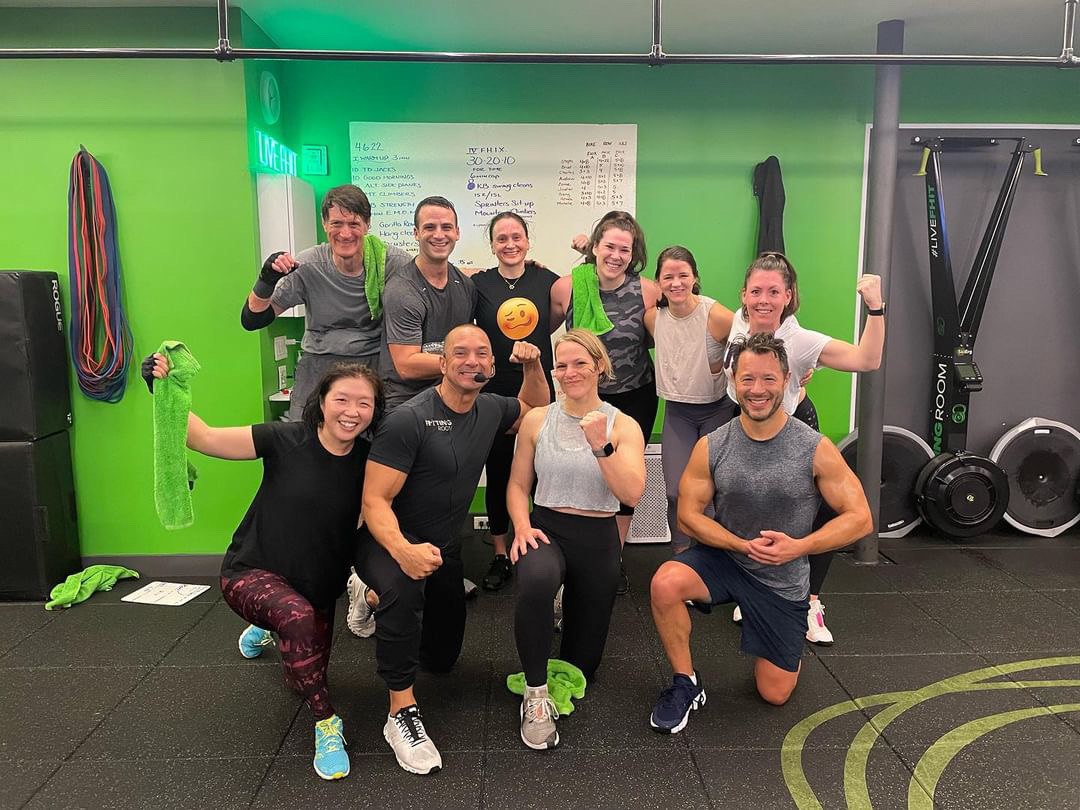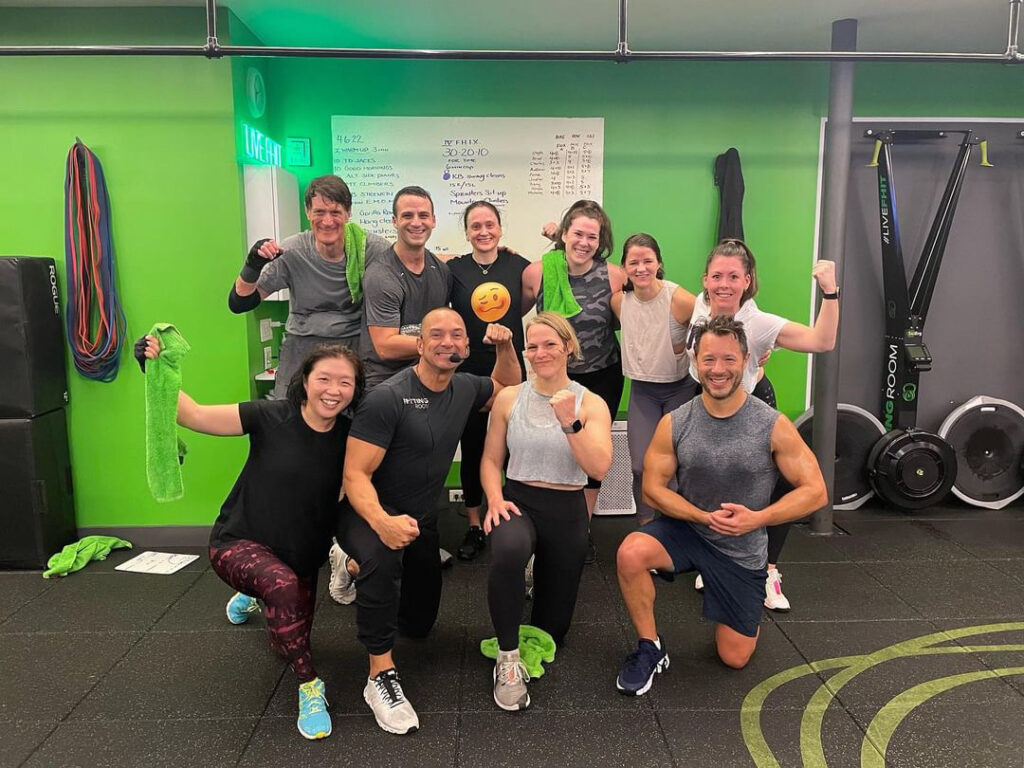 THE STORY BEHIND OUR ADVANCED KETTLEBELLS CLASS WITH ERIC:

I started this class back in 2013 with the idea of pushing FHIXers passed their limits and comfort zones. It's the longest running class at Fhitting Room as I started it on Wednesday mornings on 80th and Lexington. I design and test all the programs weekly, at times I will even drag some of the FHITpros with me to test the programs out. These workouts left me floored. During the workouts I dreaded them but I did love the feeling after finally finishing them. I felt accomplished and like I could take on anything that day. It was this FHIXtreme class that inspired our annual Survival of the FHITTEST Challenge.
Our FHIXtreme classes uses the same principles of our Signature FHIT class but in a competitive atmosphere. There's usually a strength segment then a long FHIX. It's open to anyone and everyone, if they're willing to trek up to the UWS at 5:45 am. FHIXers are given prescribed weights by the coach, but it's ultimately up to FHIXer to use a suitable weight based on their skill and the workout. Our high intensity workouts usually range anywhere from 10-30 minutes and will incorporate all skilled kettlebell & dumbbell movements as well as all cardio machines (bike, ski, and rower). Also included in classes are short running distances and bodyweight exercises like pull-ups or toes to bar. Sometimes they team up as teams of two or three to tackle these workouts. At the end of each class I track scores & weights on the whiteboard to compare for a later date when we retest these FHIXes.
FHIXtreme has become a tight-knit community within a community that holds each other accountable, are super supportive and they are great at making everyone feel welcomed.
If you had to pick 1 thing you love most about FHIXtreme, what would it be?
Suzanne B.:
The people

Rosie H.:
The energy! Nothing like the FHIXtreme crew to get you out of bed and working hard early on a Wednesday morning.
Dana G.:
What I love most is the welcoming and positive environment; everyone in class is supportive and has amazing energy!
Esme H.:
The community

Steph M.:
The camaraderie
Kenden B.:
The energy at 5:45am from Eroc and my friends in class
Lindsey F.:
The instructors and the programming!
Charles W.:
The energy from the group
Deepak S.:
The challenging partner workouts
Kassaundre S.:
The instructors energy, the tough program, the love the community gives throughout the workout, and the after feeling.
Sang K.:
It's a great workout and team environment!
Andrew V.:
The great community of participants that support and cheer each other on
Dennis K.:
Challenging workouts ( And music!!!) also Eric's energy- I couldn't pick one!
Stephanie B.:
Eric's challenging programming
Becky B.:
Can't choose between people and the workouts! Erich is always switching it up and having us try new things.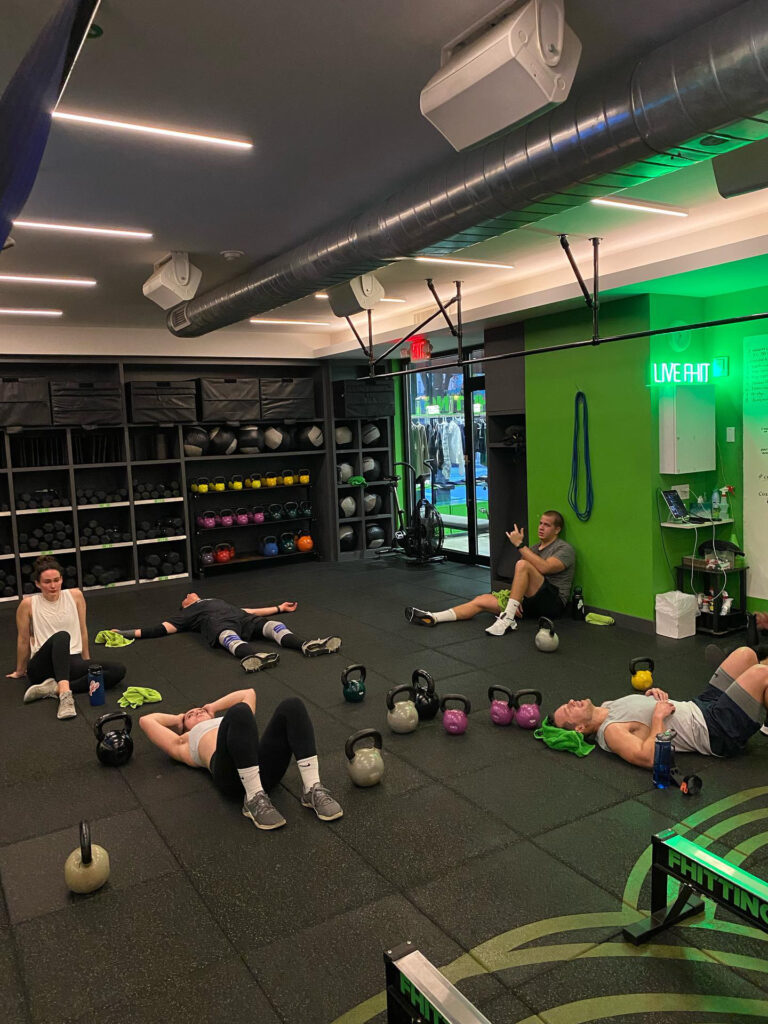 How does FHIXtreme make you feel?
Suzanne B.:
Strong and fit!
Rosie H.:
LIKE A POWERHOUSE. Also sometimes very tired. The class is an awesome challenge, both in strength and cardio, with some really frickin strong fit and cool people who inspire me!
Dana G.:
It challenges me and after every class, I feel thankful for what my body can do and am reflective where I need to grow!
Esme H.:
Empowered, and a little dead (IYKYK)

Steph M.:
Powerful!
Kenden B.:
A spectrum of feelings – from energized to accomplished to exhausted
Lindsey F:
Strong!
Charles W.:
Energized
Deepak S.:
I definitely feel pushed harder than usual. It reminds me of the CrossFit high.
Kassaundre S.:
BADASS! Energetic, accomplished, euphoric, all the feels!
Sang K.:
Kickas$!!
Andrew V.:
FHIXtastic!
Dennis K.:
At my age, I feel good that I am as strong and fast as the younger participants.
Stephanie B.:
Strong!
Becky B.:
Always dead after the workouts but end up feeling great and accomplished!
Around how many classes did you take before trying FHIXtreme?
Suzanne B.:
Around 300 classes.
Rosie H.:
I first tried FHIXtreme when Bruderman offered to carpool to the Upper East Side with me – and text my mom when we arrived (I was in High School). Ever since then I've gone whenever I can!
Dana G.:
500
Esme H.:
I took Signature FHIT for about 6 months first until I could swing a 24KG.
Steph M.:
Over 400, but it was my first workout back after giving birth.
Kenden B.:
Around 50 classes
Lindsey F.:
20 maybe?! I can't remember!
Charles W.:
A couple hundred classes
Deepak S.:
Hundreds
Kassaundre S.:
Maybe around 100-150
Sang K.:
Hundreds, I love Fhitting Room!
Andrew V.:
I tried all the class formats and a lot of classes
Dennis K.:
At least 50-100
Stephanie B.:
Around 500
Becky B.:
Probably around 50-60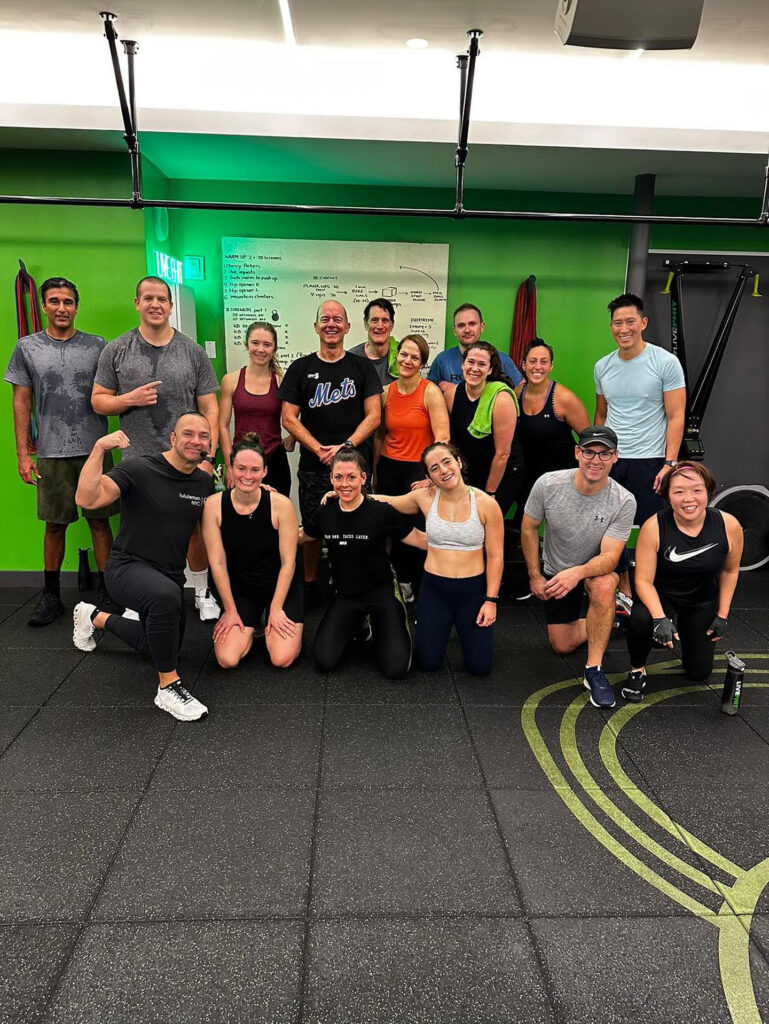 What motivated you to try FHIXtreme?
Suzanne B.:
Love Eric so much and he encouraged me!
Rosie H.:
I knew Eric from Signature FHIXes and many of the frequent FHIXtremers and thought it seemed like an awesome crew! Also, I wanted a challenge and fit well into my schedule because I could work out, walk my dog, and shower all before the school day began.
Dana G.:
I was convinced to try my first FHIXtreme class by Esme! I was in the middle of marathon training so I was nervous to try an "extreme" class, but took a class and have been hooked ever since!
Esme H.:
Eroc made me do it!
Steph M.:
Eric teaching! (and it fit within my schedule)
Kenden B.:
Seeing the scores on the whiteboards during Signature FHIT classes later on Wednesdays – I wanted to give it a shot and get my name up there too.
Lindsey F.:
Eroc coaches them!
Charles W.:
I first took it because it was offered at 6 am (now 5:45am).
Deepak S.:
The partner workouts with other competitive like-minded folks in a supportive environment
Kassaundre S.:
ERIC spoke me into it. I fell in love after my first class and woke up every Wednesday at 5am to go.😆
Sang K.:
I wanted a class that was a bit more challenging and technical in nature.
Andrew V.:
The support and coaching of the WODFather aka El Capitán – Mr. Salvador
Dennis K.:
Eric's energy, the time frame, and my desire for a challenge
Stephanie B.:
Mel had told me one day after class that I should try it because I'd love it and I haven't looked back since!
Becky B.:
I used to go to the 7am and I would always see the fhixtreme crew leaving class. One day I looked at the programming on the whiteboard and decided I wanted to give it a try.
What advice would you give to someone who is thinking about trying the class?
Suzanne B.:
It's so fun and challenging but anyone can do it! The group is very welcoming.
Rosie H.:
Try it! Well, take your fair share of Fhitting Room classes first because it's not a class for the faint hearted. But seriously, this is a very welcoming group of all ages, skills, strength, and fitness. As long as you're willing to push yourself and be challenged, you'll do great.
Dana G.:
Definitely try it!! The workouts are different from the standard Fhitting room classes, however they challenge you in new ways and the energy makes the class so much fun!
Esme H.:
Just dive in. Everyone is welcoming and will clap for you.
Steph M.:
Waking up at 5am isn't as bad as you think it's going to be.
Kenden B.:
Give it a try! it's challenging but everyone is very supportive and Eroc makes it fun.
Lindsey F:
Go at your own pace.
Charles W:
Don't worry, you can do it.
Deepak S.:
Be somewhat proficient and independent in your movements.
Kassaundre S.:
Don't feel intimidated, take your time if you need, take breaks if you need, eyes forward and chin up. Everyone in class will cheer you on until the very last second!
Sang K.:
Do it!
Andrew V.:
If you've taken the Signature classes and looking to up your game with longer interval, skill/movement focused work – this is for you!
Dennis K.:
Stick with it.
Stephanie B.:
Do it! It's a great class that is constantly challenging us to continue to excel and push ourselves to the next level.
Becky B.:
Come with the mindset that it's going to be a challenge but have fun with it!
Have you made a new FHIT friend through FHIXtreme?
Suzanne B.:
Absolutely, many!
Rosie H.:
I have made many new FHIT friends through FHIXtreme! Even though I may annoy some of them with how loud I am at 5:30AM, this crew has gotten me through both tough workouts and also provided life advice and support throughout high school! There's nothing like a 5:45AM workout to bond.
Dana G.:
YES! Too many to name, and I am sad when I have to miss a Wednesday!
Esme
Most of my besties.
Steph M.:
Yes, and I love seeing familiar faces in other classes throughout the week
Kenden B.:
Yes, several!
Lindsey F:
Yes.
Charles W:
Yes, I have made connections with the other people in the class.
Deepak S.:
Definitely friendly with other athletes in class after a while, everyone seemed to know each other!
Kassaundre S.:
The majority of my FHITS friends were made through FHIXtreme.💚
Sang K.:
Yes!
Andrew V.:
Yes – all the regulars, OG and New G.
Dennis K.:
I feel the community spirit!
Stephanie B.:
Yes! Everyone is welcoming and inviting and seeing the same faces every Wednesday at 5:45am has brought me some great friends!
Becky B.:
Yes, many!
Lastly, how do the skills learned in this class apply to your daily life?

Suzanne B.:
FHIXtreme makes me feel accomplished before 7am and like I can tackle anything!
Rosie H.:
There are so many parts of FHIXtreme that have improved my daily life, from being able to sprint the stairs if I'm late to class to picking up my dog or carrying my friends around. Perhaps most importantly, though, FHIXtreme has given me so much confidence and strength and taught me that I'm way stronger and more FHIT than I ever thought I was or could be! Plus, 5:45AM workouts teach discipline.
Dana G.:
This class has taught me to not be afraid to try new things and have patience when I'm not feeling successful right away.
Esme H.:
I can move my couch and and am not winded in my NYC walk up.
Steph M.:
It has helped me gain the strength I need to carry my 35lb toddler.
Kenden B.:
Being at the gym at 5:45am every Wednesday makes you learn how to prioritize! That carries over into other parts of my daily life.
Lindsey F:
I feel 100% better every time I take a class.
Charles W:
It clears my head to start the day.
Deepak S.:
Teamwork, supporting teammates!
Kassaundre S.:
Working in a school setting as an OT, it helped me maintain my endurance, flexibility, and strength while working with my students on a daily basis.
Sang K.:
I've gotten a lot stronger – helps lift all those heavy groceries!
Andrew V.:
They say "80% of success is showing up." This crew shows up at 5:45AM week in and week out. The importance of making commitments and seeing them through with a great team and leader is applicable to everything we do.
Dennis K.:
Mobility
Stephanie B.:
It's taught me discipline and to push past what you may think your limit is!
Want to join this inspiring crew?
Becky B.:
A reminder that progress takes time but consistency is key.
Book FHIXtreme with Eric and get ready to level up.