This month we're excited to feature our frequent FHIXer, Esme, in our FHITspiration series. In 2019 Esme found love at first FHIX when she used kettlebells for the first time during her first ever Fhitting Room class. Fast forward to 2023 and 700+ classes later, Esme has become so passionate about kettlebell training she's now obtained 2 certifications. Esme is sharing her advice to those getting started on their fitness journey, how the welcoming community she found at Fhitting Room has turned into long-lasting friendships, and her hopes to shatter myths about strength training.
How did you find out about Fhitting Room? What did you love about it that has kept you coming back since 2019?
Before I found Fhitting Room, I had basically tried every boutique fitness experience Classpass had to offer. Barre, yoga, spin, boxing, I tried them all. Fhitting Room was then recommended to me by an acquaintance, as the place to train.
I walked into the UES studio on a Saturday morning, totally intimidated, and never looked back. One class became 2x a week and quickly escalated to my daily FHIX. What kept me coming back was a combination of training with kettlebells, the class format, and the instructors. I met some of the most amazing people who are now some of my closest friends. Fhitting Room became my community.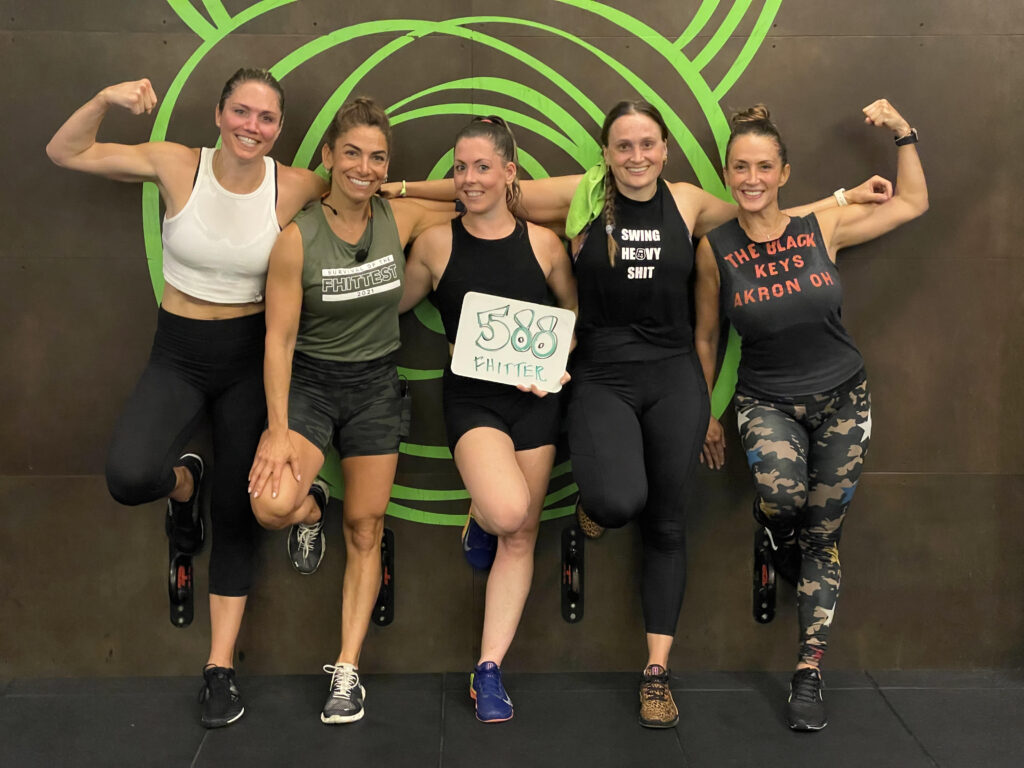 Do you have a favorite Fhitting Room memory you can share?
Extremely hard to pick just one throughout all the years!
A most recent favorite memory would be taking the Latinx BeneFHIT class. IYKYK. This class really showed what makes Fhitting Room so special, the community. An amazing mix of frequent FHIXers and new to Fhitting Room kettlebell lovers, but everyone coming together for some PRs (personal records) and dancing. The energy that filled the studio was epic. Shoutout to Carlos for continuing to increase my weights and cheering me on!
Were you working out with kettlebells before, and how has Fhitting Room played a role in your fitness journey?
I had never touched a kettlebell before coming to Fhitting Room. I was a ballet dancer,and at that time in my training, it was believed that weights made you "bulky." Let's continue to squash that myth and bring kettlebells to everyone! 4 years later, I now have two kettlebell certifications (thank you Eroc for prepping me for both), and now I am embarking on a new chapter in my fitness journey sharing my passion for kettlebells with others. Fhitting Room reignited my love for fitness. I would not be where I am today without Fhitting Room, and that extends far beyond the studio. It changed and improved my life.
If you had to pick a favorite kettlebell movement what would it be?
If I could only pick one movement it would have to be the Kettlebell Snatch. There's nothing like a beautifully done snatch. But I also love a TGU (Turkish Getup).
What advice would you give a first-timer coming to Fhitting Room?
Just show up. It's the most supportive place. If you are unsure of something you are surrounded by great instructors who will teach you everything you need to know and frequent FHIxers who are always happy to show you the ropes (or through a circuit). Keep coming back and I promise you, you will achieve your goals and will make some life long friends. I did 🙂
Which is your preferred class type to take and why?
My two favorite classes are FHIXtreme & Advanced Kettlebells.
FHIXtreme became a rite of passage. Nothing can truly test you like a 6am workout with Eric. This class takes everything to the next level and brings everyone together (laid out on the floor). You also get the opportunity to learn new skills.
Advanced Kettlebells has been the best addition to the schedule. Renee's programming will improve your skills and increase your strength. It's been amazing to watch the Advanced Kettlebell crew improve so much over last year.
How do Fhitting Room workouts make you feel ?
There is nothing like starting my day at Fhitting Room. You leave class feeling challenged and strong. Plus, working out with friends is fun! I have the best time coming to class.
Way to go, Esme! Want to find love at first FHIX yourself? Start getting stronger with one of our intro offers.