FHITpro Melody, also known as Mel, celebrates her five year FHITversary with team Fhitting Room this week. What began as a cold email to Fhitting Room has led Mel to teach nearly 3,000 FHIXes, with a lot of hard work along the way! She brings her passion for movement, devoted work ethic, and joyful energy to each and every class.
Mel grew up dancing as a child and studied dance in college. She knew she wanted to work in fitness when she joined Fhitting Room as a FHITdesk team member. She says the idea hit her that she could "do the other side of the job," and reached out to FHITfounder, Kari, about becoming a FHITpro. From there, Head Trainer Eric and Mel worked together on an intensive training and teaching program while Mel studied on her own to get her personal training certifications.
Eric says, "From the day I met Mel I knew she was born to be in fitness. She's a positive ball of energy who worked so hard to get where she is. She lights up the room with her beautiful smile and moves with grace." Mel says she fell in love immediately with kettlebells, a big part of our HIIT philosophy. Although she hadn't worked with kettlebells before, it came naturally to her because moving with kettlebells was like "dancing with weights." It was this singular vision that helped Mel rise to meet and exceed the high standards for education we expect from our team.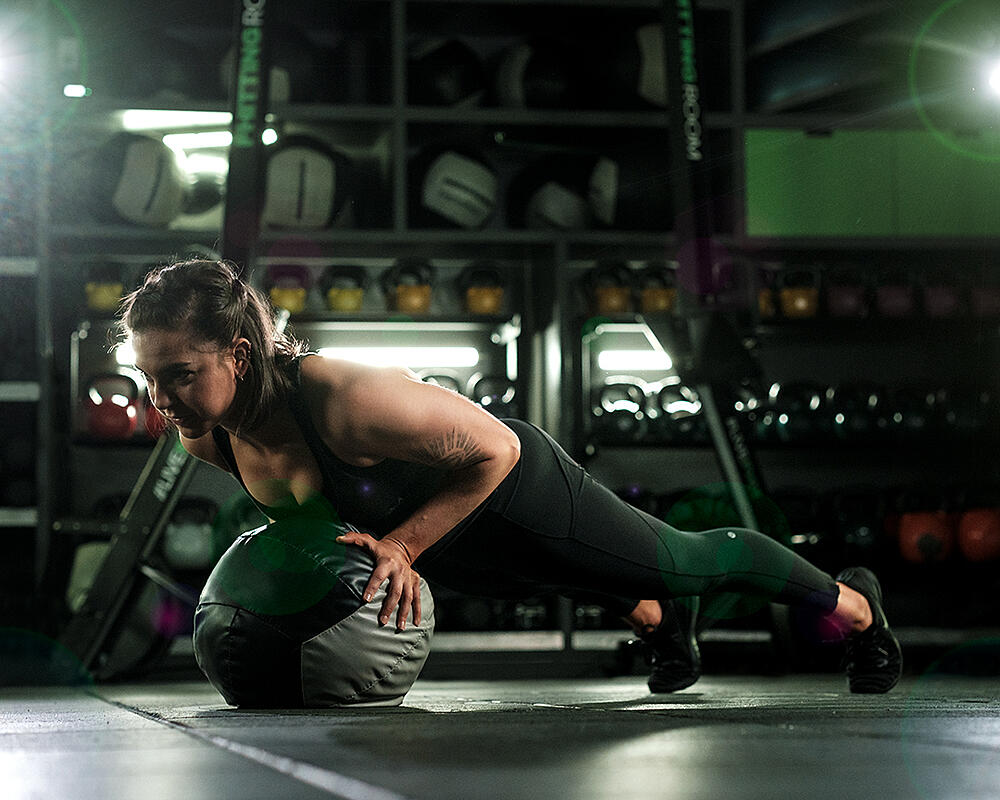 Mel taught her very first class with Eric on a Friday at 6am. Eric notes, "I love teaching with Mel, she's a great balance of performer & technician. She's a team player, a leader, and an inspiration to all!"
Mel's favorite FHIT memories include the annual FHIT BBQ and holiday party as well as watching and helping clients reach their milestones day in and day out. She is equally grateful for "back office chats" and everyday moments like, "when Eric puts on someone else's jacket and dances around the studio." Mel appreciates the "built-in workout crew" she has with other team members.
Of her teammates, Mel explains that they are one of the many reasons she looks forward to work since "you interact with your coworkers a lot more in this field than other fields." She says, "Getting on the subway at 4:30 in the morning is worth it because of who I'll see at the studio."
Mel says she's "most proud of taking something that used to be a hobby for me (something I needed to get through my day), and turning it into a way to make a living. Being able to support myself through something I truly like to do and finding a job that truly makes me happy."
In our current isolated reality, Mel has been teaching classes on Fhitting Room LIVE. Fhitting Room LIVE translates our in-studio experience online, allowing FHIXers to keep in touch and stay on track with bodyweight, bands, equipment classes, and more. "I keep giving frequent FHIXers I see online virtual hugs," Mel says.
It's this sense of connection that makes Mel an invaluable member of our team. FHITpro, Ben W., explains, "Melody is always the life of the party, but she's also so much more. Melody is a deeply committed friend to those in her life and brings people together."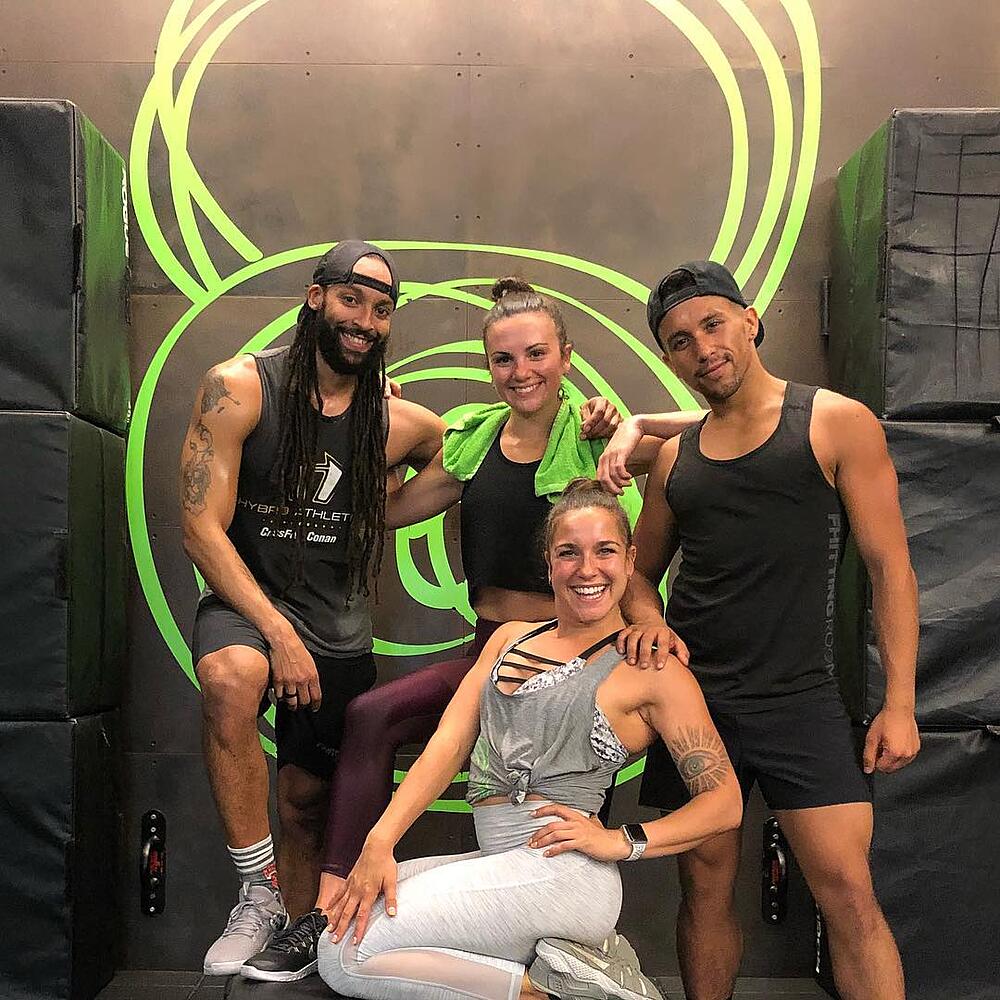 On moving from teaching in our studios to teaching online, Mel says, "It works so well, and you can give feedback. It's serving everyone involved. The people taking the class are getting the workout and the people teaching it are also getting the connection. Our job is to train you, and at a time like this it's super important to keep up your fitness."
To keep herself busy beyond teaching Fhitting Room LIVE classes, Mel has been cooking and has also picked up running. She says running has been fun as it is her "only chance to get outside, that's been humbling."
Mel forged a new path in fitness for herself five years ago, but FHITfounder, Kari, remembers it "like it was yesterday." Kari says, "The only thing that matched the vibrancy of Mel's electric blue mascara was her personality. Mel didn't just work at the front desk, she worked every angle of the front desk from knowing every client by name and writing posts for the Fhitting Room blog to filming and editing workout videos for our social feed. Mel brought enthusiasm to everything, even early morning openings." Today, Kari says, "Mel is radiant, strong, smart, full of love and life, and a leader" on our team.
Mel says that "the team inspires me as a FHITpro and as a person. It [Fhitting Room] is my second home, it's more than a job."
Mel, thank you for all you do for our FHIT community. The feeling is definitely mutual!